The forecast for this weekend was sunshine, sunshine & sunshine, so it felt like the correct time to buy us some bicycles.
Yesterday we visited three different bike shops around San Mateo and tried out various options – my absolute favourite was a ridiculous rainbow coloured bike with massive pink wheels, but it had only one gear which I did not think would work well for SF's famous hills.
NB/ I have been informed "San Fran" is a very uncool term for the city, and that I must now start using "SF".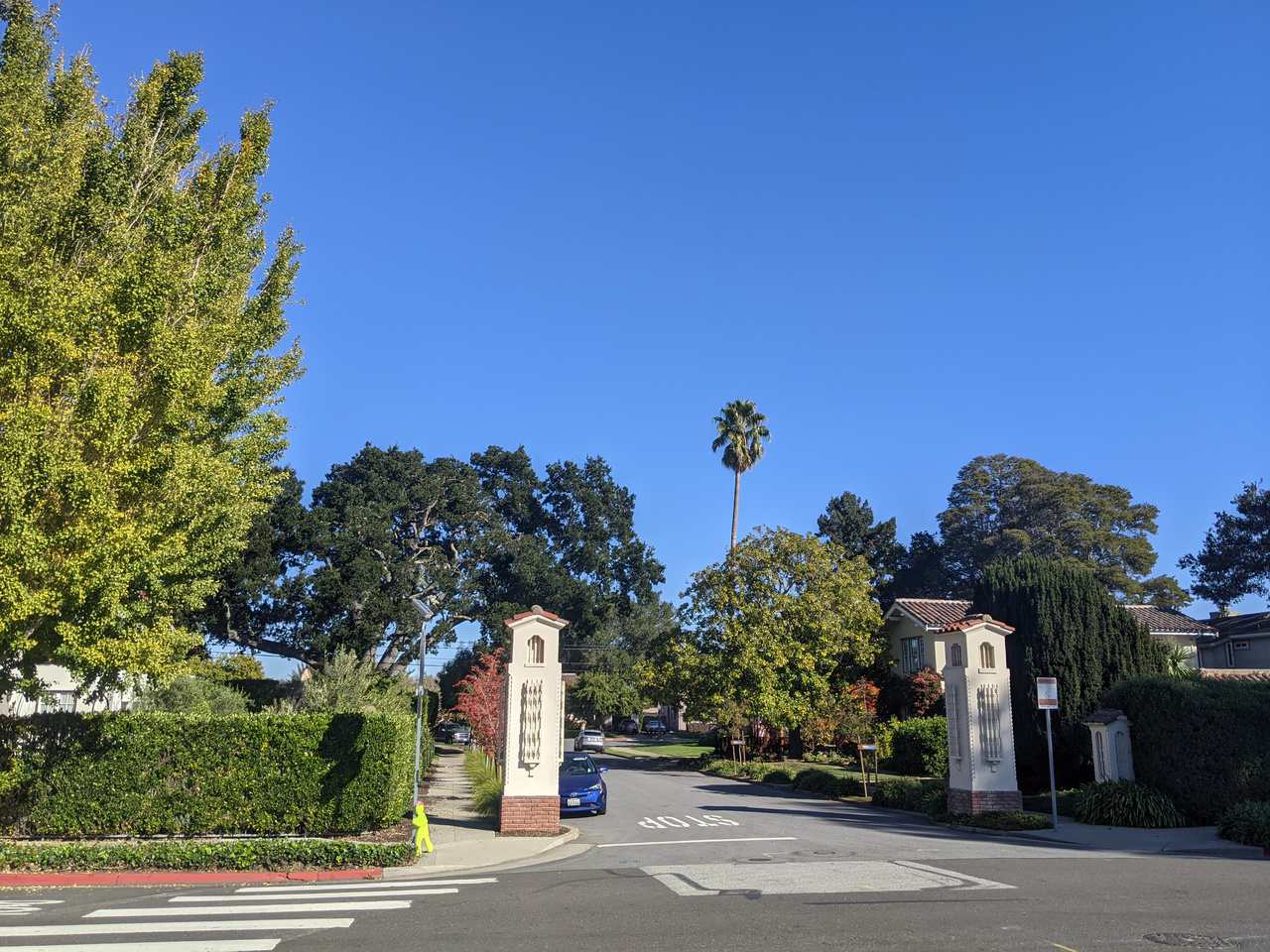 In the end, we both chose hybrid bikes made by a company called Specialized – Andrew's bike has more zoomy, skinny wheels, and mine is blue and green with a majestically wide seat.
For lunch, we decided opted for Vietnamese at Saigon City Restaurant for a Bánh mì sandwich – a delicious crispy baguette filled with pickled vegetables, coriander and crispy chicken or pork. This was one of our cheaper meals (only $8 each) so we will definitely be back!
In the afternoon we got on our shiny, new bikes and cycled over to Seal Point Park and cruised along the bay, which was bathed in lovely, golden light. This also seems to be an excellent running spot, so we are planning to come here again next week to do a cycle-run-cycle.
From Seal Point Park we decided to tackle the 3.5-mile cycle to Roblox's headquarters, so Andrew could test out the cycle route before his first day of work on Monday.
We are pleased to discover that the roads here are so wide and flat that cycling is both safe and easy – drivers also seem to give cyclists right of way most of the time, which is in great contrast to our experience of cycling in London. There are also hardly any roundabouts, which makes me very happy indeed.
We arrived at Roblox HQ without any issues, and I snapped a photo of Andrew standing by the Roblox sign, grinning from ear-to-ear. This is actually happening…we have moved to America.
By the time we reached our Airbnb we had cycled almost 19km (12 miles) so we felt, for the first time since we arrived, like we deserved a drink. So we put on our gladrags and headed out to a bar we had spotted earlier in the day – Redwood Coast Cider – devoted entirely to American cider.
The barman had what I would describe as a "Californian beard" – not quite a high-maintenance hipster beard but a good, strong beard nonetheless. We both ordered a flight of ciders: five mini-glasses served on a wooden board. Some of my choices included Costa Rica Cruiser with Hibiscus, and Finnegan's Triumph made with "Irish yeast". What we have discovered is that American cider is very dry, and unlike all other American drinks, not very sweet.
We tried to convince the barman, Scott, to order in some Orchard Pig Reveller, so let's see how that goes. He also told us he was really keen to visit the UK to (a) sample all the ciders and beers and (b) sample the rollercoasters. The latter came as somewhat of a surprise as I did not realise England had such a global reputation for theme parks, but apparently, I was wrong.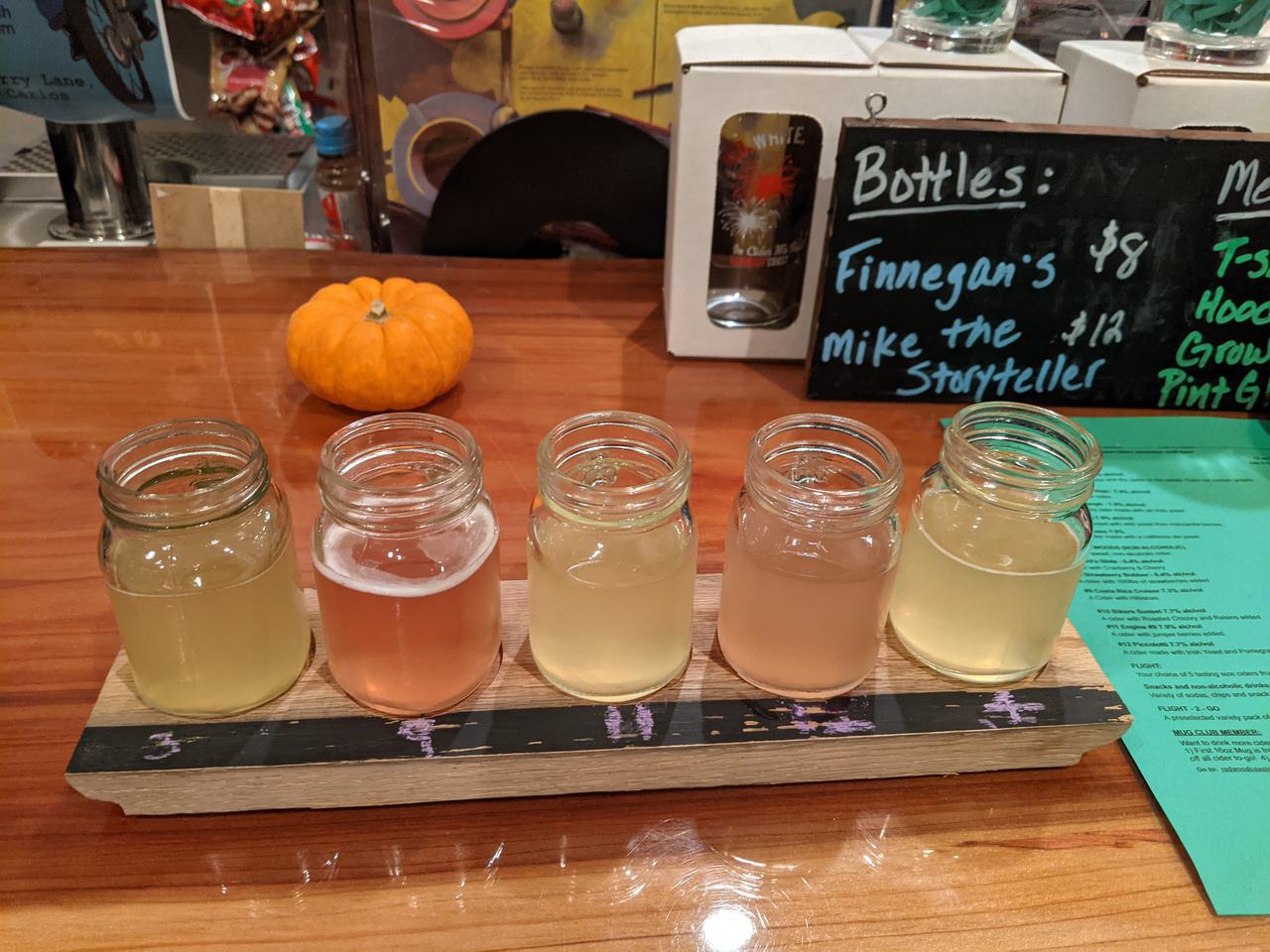 We also felt it necessary to visit one of San Mateo's "Irish" pubs, Mc Govern's Bar. Apparently, it was established by an Irishman but it was about as American as you can get: pinball machines, a pool table and craft beer – the only Irish element was a poster of a pint of Guinness.
Despite its lack of Irishness we actually had a great night. While playing a game of Sh*thead a cheerful American called Earl introduced himself and told us it was his 50th birthday. We also got talking to his friend, Collin, who had a ponytail and told us they had been friends since 6th grade (whatever that means).
Earl asked us to teach him to play Sh*thead, which we preceded to do with enthusiasm. Needless to say, he lost, and proudly pronounced himself to be "the first American Sh*thead". Good on you, Earl!