A park called Andrew and an American faux pas
On Thursday morning we checked out of the thrilling Travelodge in Monterey and drove 10 minutes down the road to a place called Carmel-by-the-Sea – another seaside resort city. This one was recommended to us by the Uber driver who took us to pick up the Mustang.
On arrival, we were both immediately suspicious that Carmel wasn't going to quite be our vibe – it all looked very manicured and expensive. We had a wander down the main street and according to some of the real estate posters a 3-bed house can set you back $6 million…
There were lots of fancy gift shops selling overpriced cushions and shoe shops selling the latest fur-lined Uggs. We did, hilariously, spot a Lush, which was started in my very own hometown of Poole – that shop is everywhere!
As it was Thanksgiving, not many places were open, and we ended up having a slightly unusual (but pleasing) breakfast of flatbreads with hummus and baba ganoush at Dametra Café. We then checked into our guesthouse for the night, Carmel Fireplace Inn, which did indeed have a fireplace in the room (entirely unnecessary as it was 20°C outside). It also had a very pretty courtyard with lots of cheerful plants.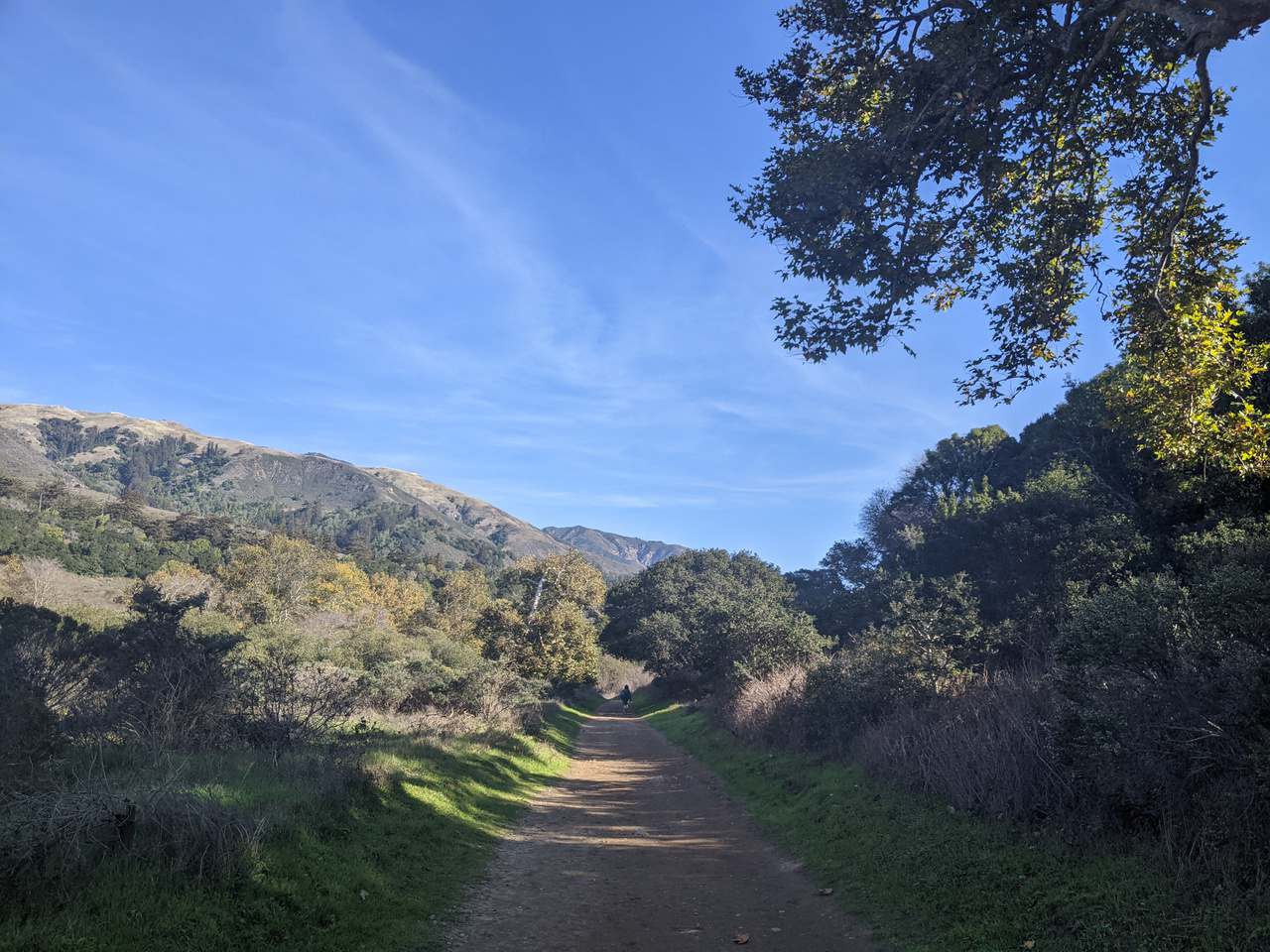 The owner of the inn recommended we drive an hour down the coast to Andrew Molera State Park, famed for its beautiful beach. It was another stunning drive along the PCH, winding along the rugged coastline dotted with little laybys so drivers could take in the views.
We arrived at the park around Midday and set off for our walk to the beach. Within the first minute, I spotted a Bobcat in the field next to our hiking trail. It was just sitting there minding its own business without a care in the world – this is the first time I have ever seen one, so it was pretty exciting.
In order to get to the main trail to the beach, we had to cross a small creek, so we took off our shoes and socks and stepped into the water – blimey it was cold! For the next 15 minutes or so we had a very pleasant walk along the trail. While Andrew was busy studying a tree, two more Bobcats darted across the path, this time much closer to us. I made a loud exclamation of excitement but it was too late – Andrew had missed them.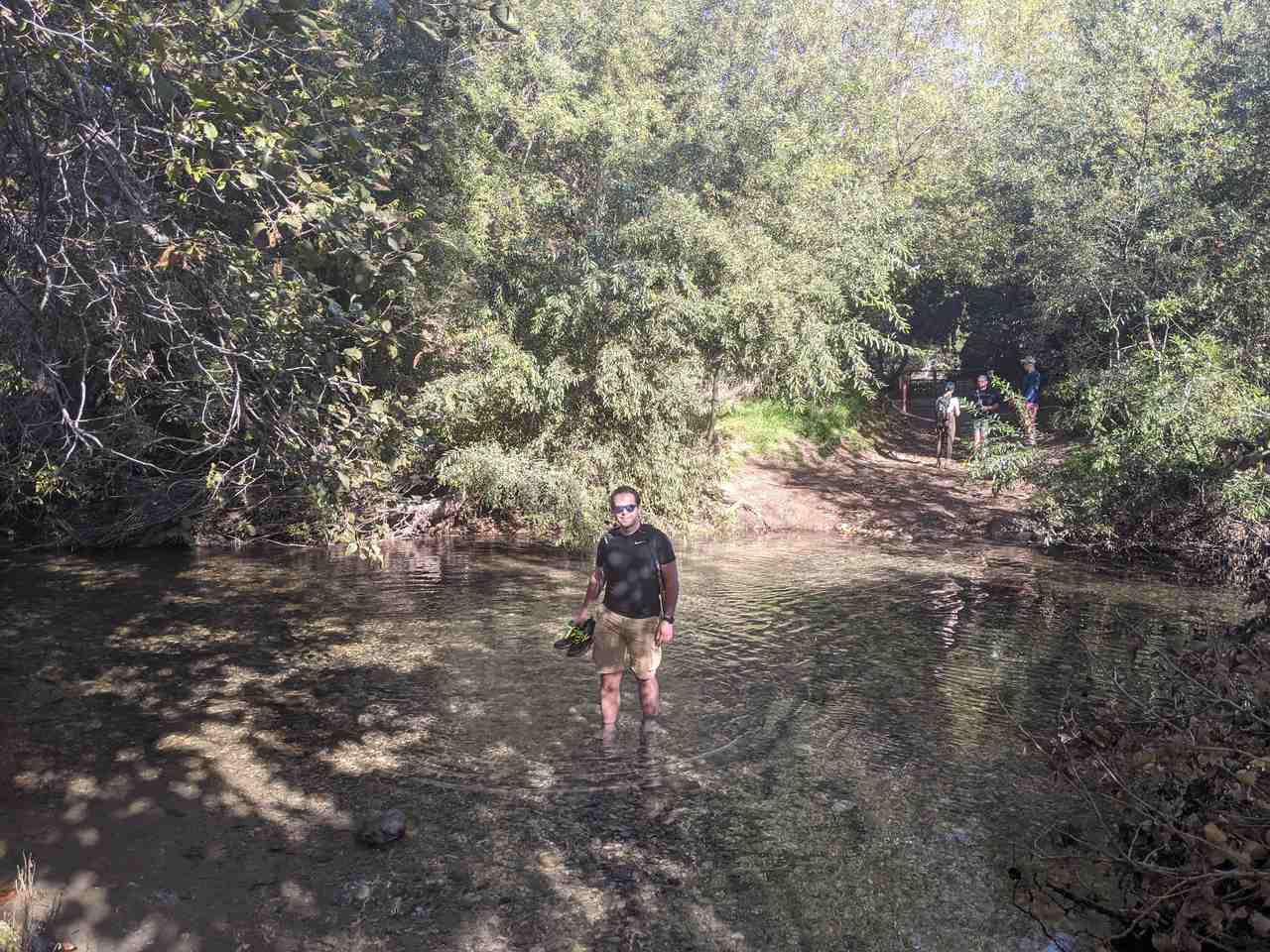 We asked the next person we saw on the path whether it was common to see Bobcats on the trail, and he was amazed we had seen one, let alone three. We then spent an amusing few minutes discussing the possibility of whether they could have been mountain lions (we think not – too small), and the American man cheerily told us that mountain lions would happily kill a human, especially if it was hiding in a tree as we wouldn't see it coming. I do enjoy American enthusiasm!
It was high tide at the beach, so although it was very nice, we weren't able to walk very far along. We had noticed on the trial that there was an alternative path with a very steep incline, so we decided to check this out. The path snaked up and up through the hills, and when we eventually reached the top we were completely out of puff. It was definitely worth it for the views!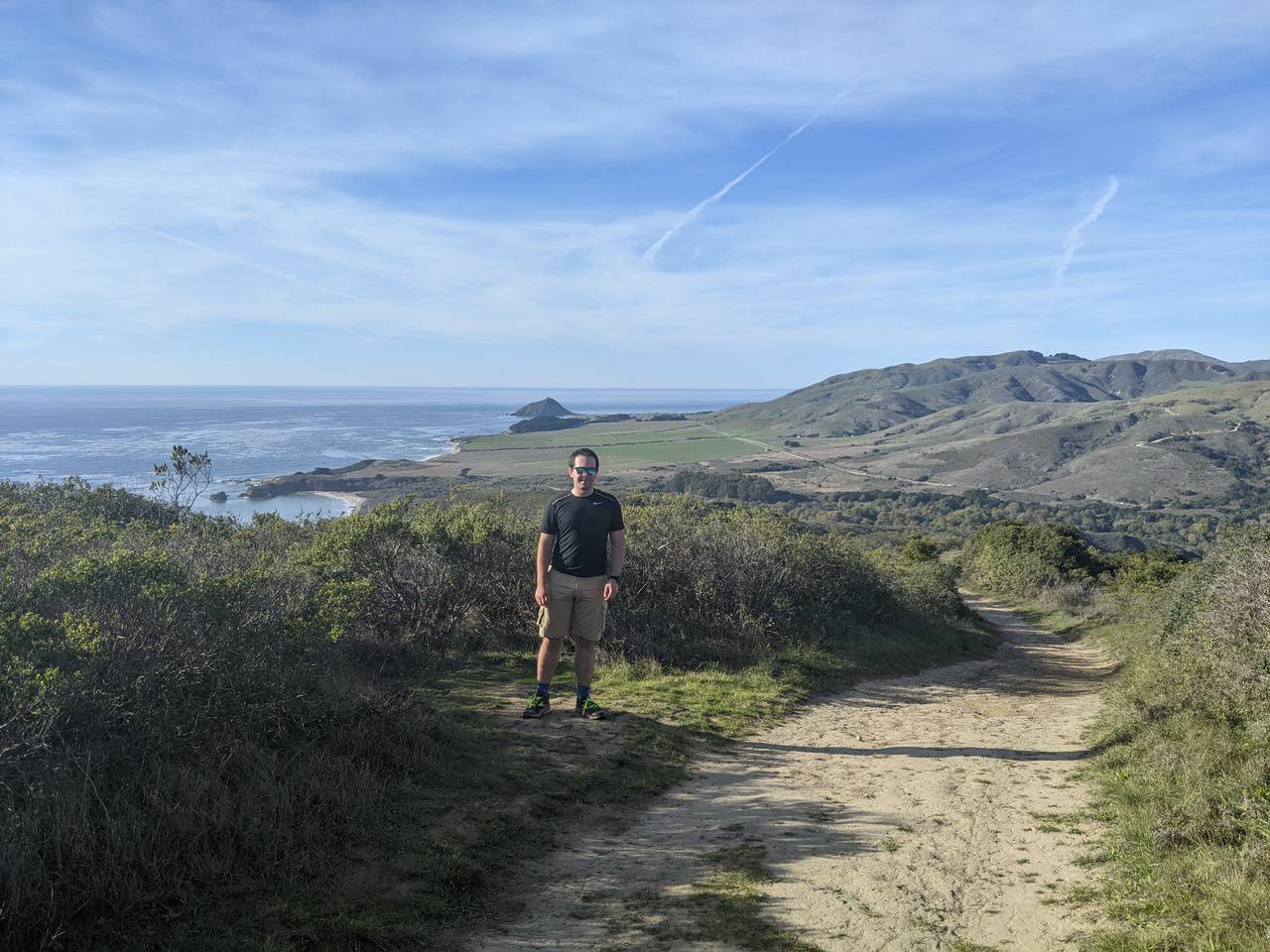 We returned the way we came along the trail and back to the car, and my fitness watch informed me we had walked for 7km and completed 200m of uphill ascent. Not bad for our first amble in California.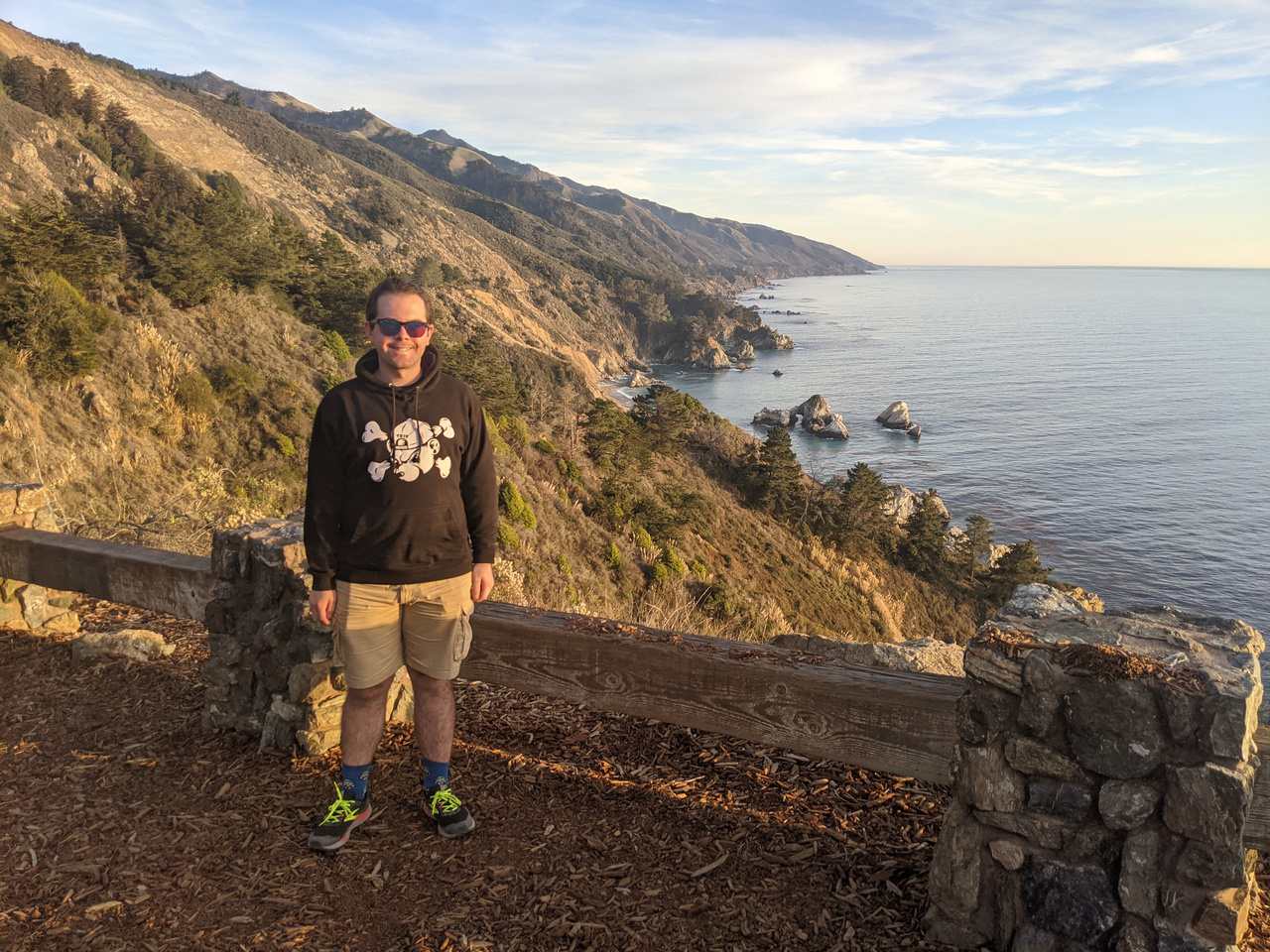 For the next couple of hours, we cruised along the PCH, stopping at various laybys and enjoying the views. We also drove through the roads hugging Pfeiffer Big Sur State Park, and next time we come here we plan to stay in one of the roadside motels as they look like great fun (and not nearly as pricey as Carmel or Monterey).
Our final stop was at The Phoenix, a roadside shop selling beautiful handmade gifts. By now it was getting dark, so we made our way back to Carmel and had a delicious meal at a pub opposite the Fireplace Inn.
The next morning, we walked to the beach in Carmel, which had some fairly dramatic waves. We stopped for breakfast at The Little Swiss Café, where I made my first American faux pas. The place was busy and it was taking a while for us to order, so when a waitress came to the table next to us, I made the apparently monstrous mistake of asking her if we could order too.
She gave me a dressing down and told me she wouldn't take my order as we had our own server, and also pointedly reminded me it was busy in the restaurant. I started grumbling loudly, but then Andrew informed me that in America, there is a hierarchical system in a restaurant, and god forbid you ask someone who is not your personally assigned server to take your order. Lesson learned!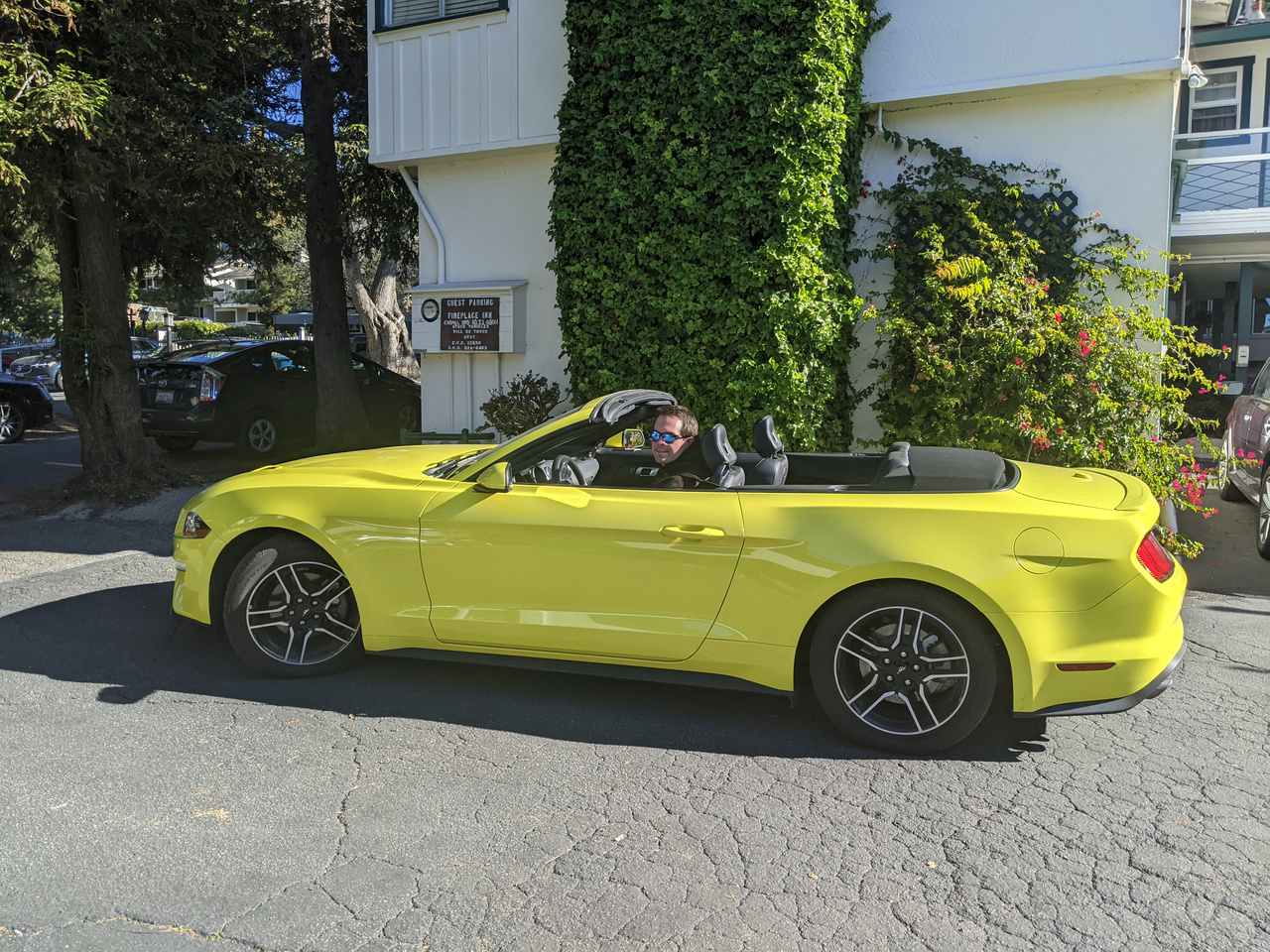 After breakfast, we checked out and drove back to the car rental place and said goodbye to the yellow Mustang. The trip was such a blast, and I am glad we went on an adventure for our first "Thanksgiving".