The Journey Starts at Copenhagen
At around midday on Saturday 21st of July, Andrew and I arrived at the first destination of our Eurotrip: Copenhagen in Denmark. We were surviving on a couple of hours sleep, having spent a rather restless night at Chateau Gatwick. At the airport in Copenhagen we headed straight for the information desk, due to the fact we had no idea how to get to our hostel, aptly named 'Sleep in Heaven'.
We were also slightly concerned by the fact that we had absolutely no understanding of the Danish language, but this turned out to be no issue as Danish people speak fantastic English. The man at the information desk kindly directed us to the hostel and also told us the history behind the name of the street, Struenseegade, where our hostel was located. Apparently Herr Struensee, a German Doctor and royal physician to the mentally ill King Christian VII, got it off with a Danish Queen and was subsequently beheaded.
One of the first things I noticed about the Danes is how bloody attractive they are: the majority are tall and slim with flawless skin and piercing blue eyes. This is probably in part due to the fact that almost everyone in Copenhagen travels by bicycle. The roads are as flat as a pancake and there are cycle lanes throughout the city, making it ideal for this mode of transport. As a result, there were very few cars for a capital city, and it was noticeably cleaner and more peaceful than any other city I have ever visited.
My second observation was that Danish people are extremely friendly. One only has to stand on a street corner and look confusedly at a map to attract help. Merely discussing the fact that we were going to get lost made us some friends on our first (and last) train in Copenhagen as a couple helped us pronounce the street of Struenseegade (Strew-en-seh-girder) and also told us the story (again) of the headless German.
After we settled into our hostel, we decided to find a place to eat lunch and the friendly hippie behind the desk recommended a vegetarian restaurant called 'Ñ'. This was an excellent call as the food was delicious: freshly squeezed orange juice and a plate bursting with bread, dips, omelette, salad and fruit. We then had a quick and agreeable nap at the hostel and made our way to the Tivoli amusement park in the centre of Copenhagen. You pay approximately £30 and are given unlimited goes on theme park-style rides,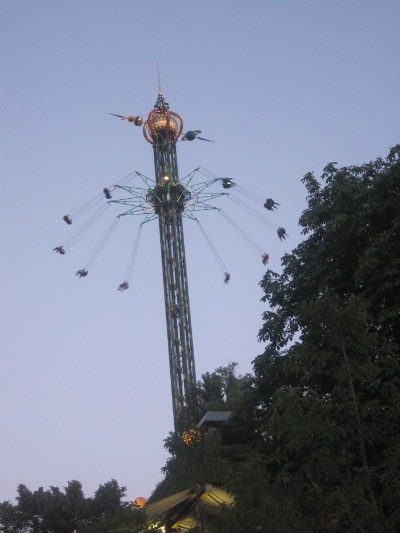 including rollercoasters, water rides and dodgems akin to those from Takeshi's Castle. Needless to say I did a lot of screaming followed by incessant giggling, which I am sure Andrew appreciated greatly.
The next day, we decided to take it easy before boarding our train to Hamburg in Germany. As we were walking down a busy street searching for an internet café, a rather eccentric man sporting a cowboy hat and magnificent cane stopped us and asked as where we came from. After telling us a little about his tortured past, things took a turn for the worse and he began to shout at us for living in a country where black people are still treated like slaves. He looked genuinely furious and was passionately banging his cane on the floor. Passers-by were staring at us with a mixture of confusion and pity but eventually we managed to say farewell and sprinted off in the opposite direction to which we were intending to go.
In the end this was actually a blessing in disguise as we came upon an utterly fantastic food market called 'Torvehallerne KBH'. There were baked goods galore and we ended up spending the rest of our Danish Kroner here. My favourite pick was the nøddetærte (nut tart). For those who know me, I theoretically hate nuts but have recently discovered that this is a load of codswallop.
After lunch we ambled back to the hostel to collect our industrial-sized backpacks and went to the station to take the 5-hour train to Hamburg. Onwards to Deutschland!