In mid-February Andrew and I went on a weekend break to Lake Tahoe with Emily, Owen and Tom. We all squeezed into one car and made the four-hour journey to the mountains. I find it completely bonkers that in that time we travelled from 20°C sunshine on the coast to a 2°C snow-covered ski resort.
On route, we stopped at a proper all-American diner complete with jukeboxes, American memorabilia plastered all over the walls and waitresses who were far too cheerful. Andrew and I shared a malt vanilla milkshake that was so sweet my bloodsugar travelled to the moon.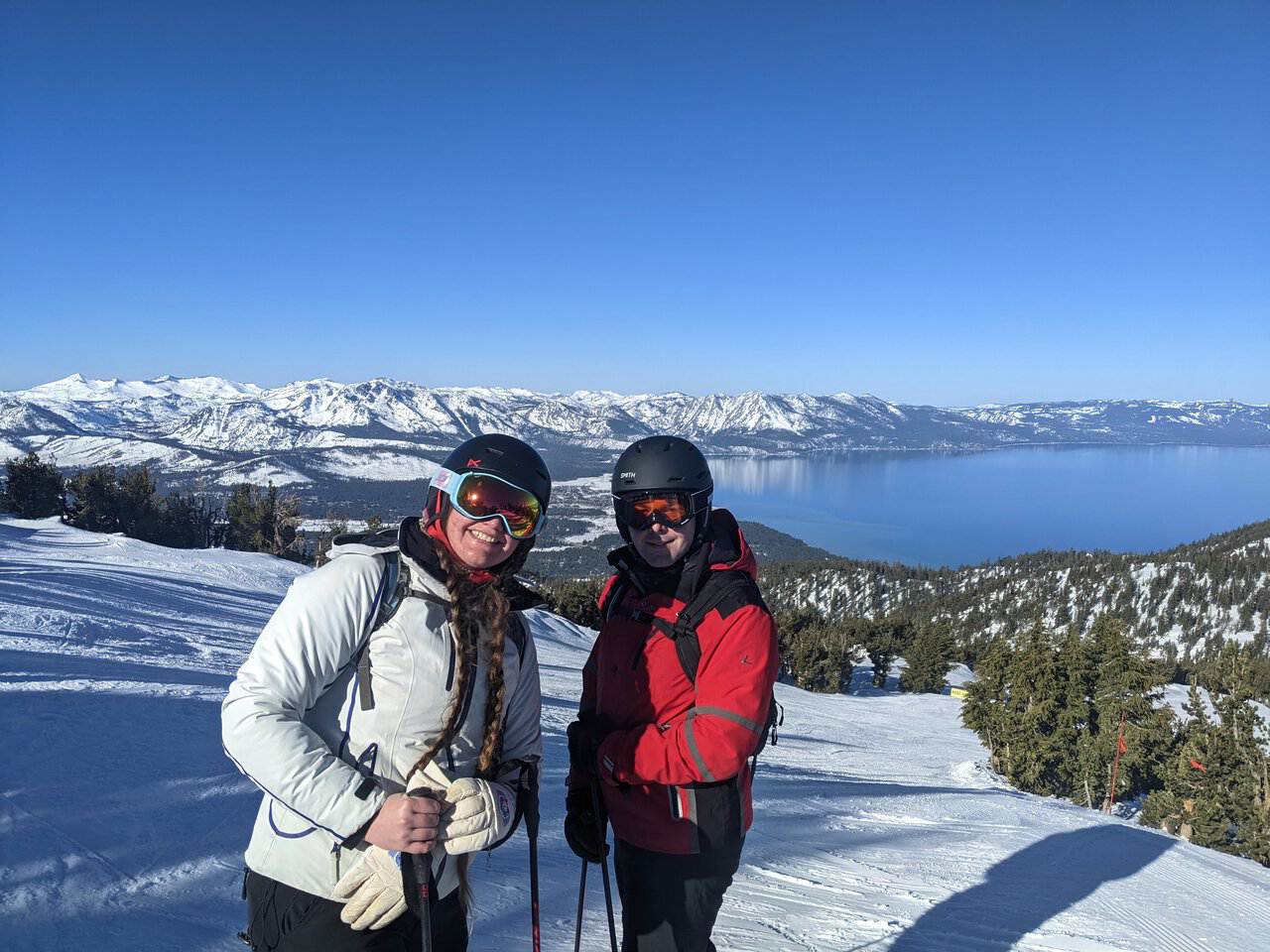 We arrived at Heavenly Ski Resort late in the afternoon on Friday and picked up our ski rental gear before traipsing back to the very glamorous 'Quality Inn', which despite serving the worst breakfast in history, was surprisingly comfortable. It even had a hot tub!
Heavenly is famous for its casinos, as half the resort is in California and half is in Nevada State. We visited a casino once for about 20 minutes, but honestly, it was fairly dull and depressing. In Nevada you can smoke indoors, and it was very weird seeing (and smelling) the cigarette smoke in the air. There was a man donning a stetson smoking a cigar, which felt correct for Nevada. Andrew did manage to win $30 by pushing a button, but none of us had a clue what he did to deserve this.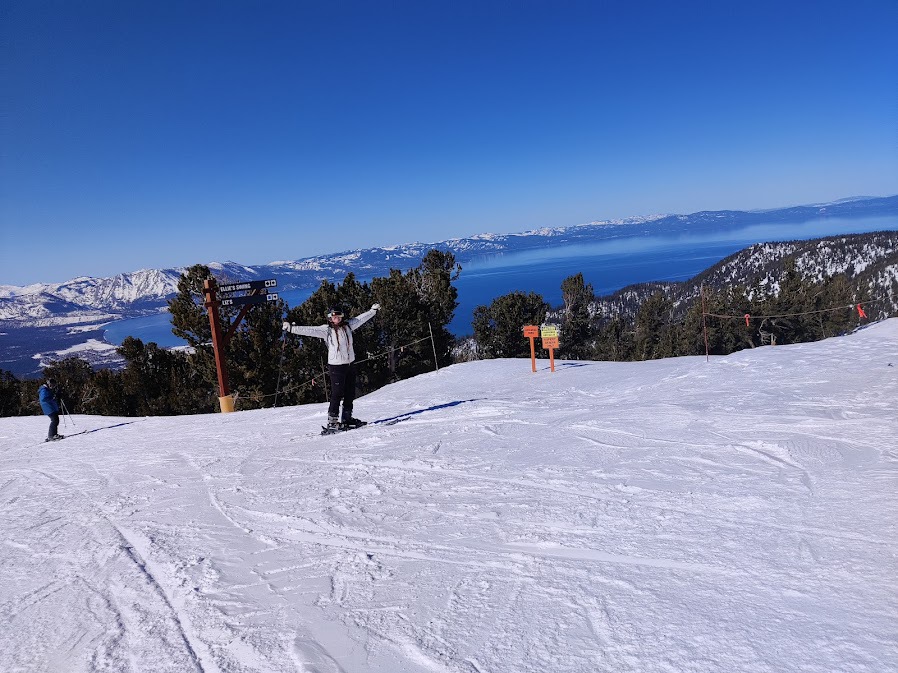 Emily, Owen and Tom stuck together for the ski portion of the trip as they were all beginners, so Andrew and I made our own way up the mountain to check out the skiing. We were incredibly lucky as despite it being mid-February, it was gloriously sunny, cloudless and (most importantly) wind-free for the whole of our trip. The snow conditions were perfect and we zoomed down the mountains in total bliss, with the vast expanse of Lake Tahoe glittering in the distance.
The only slight bummer was that most of the black runs (in the US they are called diamonds or double diamonds) had not been pisted due to staffing shortages (good old Rona) and thus were epic mogul mountains. Andrew and I both managed to ski down a few of these (fairly gracelessly it has to be said) but it's not quite the same as whizzing down a black run.
That being said, the views were amazing and there were some really fun ski runs that snaked through the trees. Here is a video of Andrew skiing as I film him from behind:
It was so hot that by about 3pm the snow started to turn to mush on both days, so we headed down the mountain to the nearest bar. Even though the bars are lively, alas they weren't as fun as Austrian or Tyrolean Apres Ski – those guys really know how to have a good time!
Sunday was particularly good as the slopes were relatively quiet as it was the Super Bowl final. We caught some of it on TV in one of the bars, but so far American Football has not filled me with joy.
We were only there for a couple of days but we had such a great time we are planning on getting a season pass for 2022/2023 – let us know if you fancy joining us for a weekend of skiing in Feb/March 2023.