Following our trip to Brugge, we planned to spend a day in Frankfurt with my friend, Verena, who I knew from school. Verena had spent a year at Bryanston studying, and I in turn had visited her in the summer for a week and enjoyed the delights of the city. We were staying at the 5-Elements Hostel, once again located in the Red Light District. This was actually one of the safer RLDs that we had the pleasure of visiting, as there were lots of police and very few creepy men. In fact, we saw with great amusement that the main clientèle were sharply-dressed businessmen, who left the brothels in the morning and headed straight for work, clutching their designer briefcases.
The hostel itself was really friendly and thankfully had decent showers. The only downfall was mention of bed-bug infestations. Fortunately they stayed clear from my room, and the hostel seemed to react very quickly and efficiently to any reports of sightings (or bites).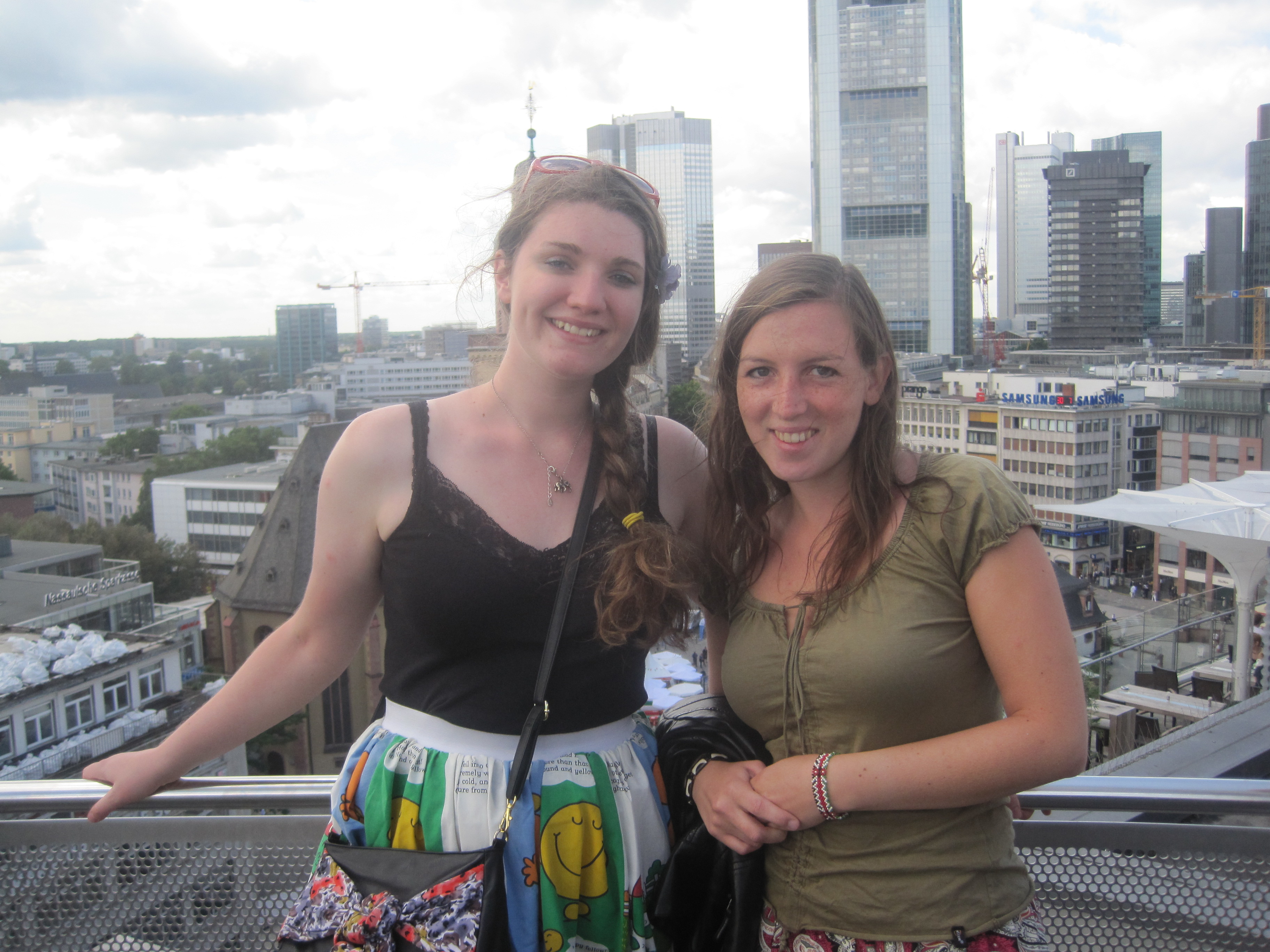 During the day, Verena, Andrew and I headed to the centre of Frankfurt. This is the financial capital of Germany, and is dominated by skyscrapers of every shape and size. There is also an enormous shopping centre,' MyZeil', which is very modern and also quite pricey. Verena told us that the shopping chain, Hollister, is so popular in Germany that people actually queue to get in. A new Hollister at MyZeil has recently opened, and as promised, there was a huge queue of eager shoppers just waiting to browse though the thrilling T-shirts and jeans sold at this particular retailer. There were also bouncers: I will refrain from commenting on this.
Frankfurt also has some rather attractive areas, with old-fashioned buildings, ornate churches and a rather pretty river where you can get some peace and quiet. All in all, we had a really good day in Frankfurt, yet it was time to jump on another train to Bavaria to sample the delights of Munich, the home of the lederhosen and beer steins.
After an average sleep in Munich's Euro Youth Hostel, we decided to go for a stroll around the centre. This was a bit of a disappointment as there seemed to be a lot of tourist bumf and designer shops, but not a lot to admire scenery-wise. Although there were some impressive-looking buildings, such as Theatiner Kirche and the Royal Residence, they were dominated by hordes of tourists. By this time we were getting hungry, and our hostel map suggested we head to the 'Fire Dragon Lounge', which offered authentic Chinese cuisine for the budget price of €8. It took us a good 45 minutes to find the place, and it soon turned out that this so-called budget menu was a figment of imagination. It was in fact pretty pricey, and was also mostly in German, so we decided to head elsewhere.
We agreed to give the map one more chance and headed to 'Zitronengras', which was rumoured to be cheap and friendly. Fortunately this time the map was right, and we had a fantastic meal of Asian-based cuisine for under €20. This included a starter, two mains, two beers and a diet coke. The staff were so friendly we actually came back the next day as well, and enjoyed an equally agreeable meal. I would certainly recommend this to any traveller, budget or not.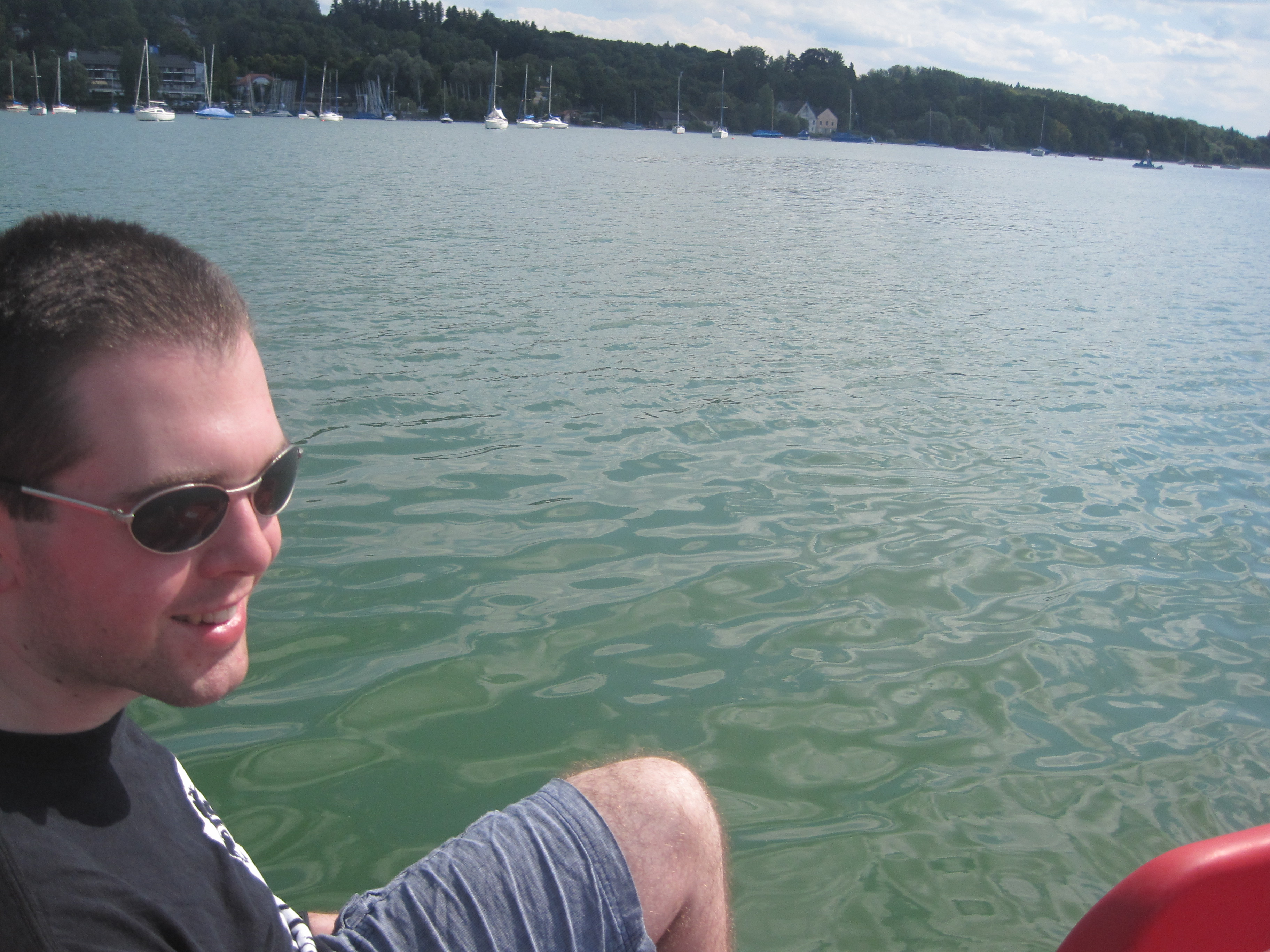 In the afternoon, we took the S-Bahn to Herrsching, located just outside of Munich. This is the home of a beautiful lakeside resort, which was seemingly devoid of any tourist except German ones. We hired a peddle boat for one hour for the excellent price of €13, and finally had a chance to work up a sweat (sort of) and also enjoy the incredible view. The lake was silky smooth, apart from the area covered in sailing boats. There were also some hilarious-looking peddle boats with slides attached to them. We were really jealous and wished we had brought our swimming stuff but it was not to be.
In the evening, we decided we felt like eating some schnitzel, and were recommended the 'Steinheil', which was rumoured to fill even the biggest of bellies. We were certainly not disappointed in that respect as the wienerschnitzels were bigger than the plate on which they were served. It was actually quite a terrifying site, but true to form I ate every last morsel. We hobbled back to our hostel and headed straight for the bar where we were  introduced to some very jolly individuals who had just finished their Munich Beer Tour. Needless to say by the time we went to bed we were equally as jolly!