Admiring the Bavarian Lederhosen
The following day, it took us a while to get ourselves into gear (unsurprisingly). We finally managed to leave the hostel and decided to have an early lunch at the aforementioned Zitronengras. The weather was once again hot and sunny, so we headed to the Englischer Garten, the world's largest municipal park. This is the home of hundreds of scantily-clad teenagers, old naked Germans, cyclists and friendly (and greedy) quackers.
We went and sat in a quiet spot by the water where some ducks were paddling about. One particularly inquisitive duck hopped out and very slowly edged towards us, presumingly hoping we could provide it with some lunch. In the end the duck got bored and waddled off, but at this moment a small child waddled towards us and started throwing bits of bread. Suddenly the whole verge of the lake was covered in a menagerie of aquatic birds desperate for a nibble.
There is also a river with fast-slowing water, ending in a permanent wave at the Southern tip of the park where surfers show off their skills. Andrew and I decided to venture into the river, where loads of youths were getting swept away in a throng of giggles and joyful screams. This turned out to be scarier than it looked, as at the end you had to grab onto rocks at the side of the river and haul yourself up while the rapids tried to drag you back. It would have been much easier if it wasn't for the fact that the river was intent on removing my rather loose bikini bottoms. This meant that I was desperately trying to drag myself to shore with one arm while holding on to my bikini with the other. Fortunately, I had Andrew to help my from losing my dignity (and my bikini bottoms for that matter).
For the next hour or so, we just lay on the grass by the river and dried off in the sunshine. This was a very blissful time after the excitement with the river. After a while we got a little bored of lounging about and we decided it was time to visit one of the infamous beer gardens. We made our way to one of the most famous establishments called the Hofbräuhaus. As well as a bar and restaurant, the Hofbräuhaus is a brewery owned by the Bavarian State Government. It is one of Germany's oldest beer halls and certainly brings in the punters, especially during Munich's Oktoberfest during September and October.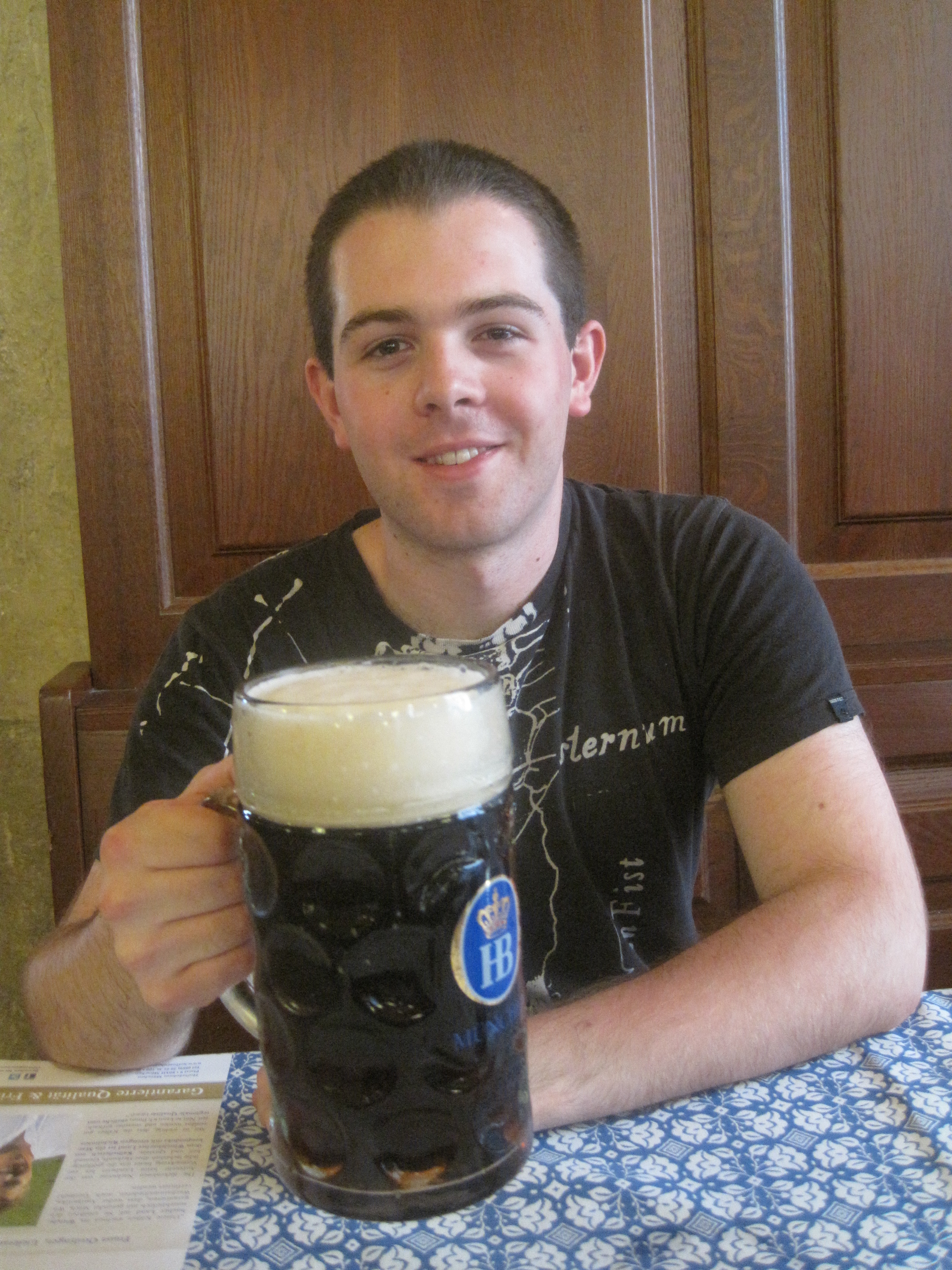 The waiter, adorned in his lederhosen, came and took our order and Andrew immediately went for the litre  of dark beer. This was an impressive specimen but as usual I couldn't stomach the stuff. Our meal was absolutely delicious: I sampled the suckling pig while Andrew went for roast pork. One thing we noticed about Germany is that at restaurants, they never seem to feel the need to accompany your meal with vegetables. I think at this point I was actually starting to crave some greens which I am sure will surprise some of you.
Our meal ended at a perfect time as the stage next to our table was suddenly filled with laderhosen-clad Germans intent on playing some Bavarian tunes for us. We listened to a couple of songs but then a bunch of people stood in front of our table to take pictures and we decided it was time to call it a day. The next day we were to travel to Slovenia to meet with Andrew's family, as Sarah, Andrew's sister, was getting married in the castle at Lake Bled. I was extremely excited about this so although sad to leave Munich, I knew we were in for an amazing couple of days.