On Monday at around midday, we boarded our very smart train to Vienna. We were only staying one night, having got a bit carried away in Slovenia and booked an extra night. We had been recommended Vienna by several other travellers, so were looking forward to exploring the city. As our time was limited, we planned what we wanted to do during the day on Tuesday: a trip to the interactive 'Haus der Musik' (Museum of Music), some traditional Austrian food then a climb to the top of the south spire of the magnificent Stephansdom.
We were staying the night at the 'Hotel Birg Cyrus' in yet another less-than-picturesque area of the city. However, the hotel turned out to be a bit of a gem, with a huge room, en suite bathroom and free soap (hooray!). The man behind the desk was also smiley and helpful, which was a nice change to some of the grumps we had encountered in other cities (such as Munich).
We hadn't really eaten enough during the day and as a result by 7pm we were both ravenous and a little dizzy. We had decided to go to a restaurant recommended by our Rough Guide travel book called 'Schnitzelwirt', as wiener schnitzel is one of Austria's most famous dishes. Needless to say we got completely lost, and after 45 minutes of wondering around, taking trams, U-Bahns, and getting very grumpy, we decided to order our schnitzel from an Italian restaurant.  As you can imagine this was slightly underwhelming but at least filled the gap!
On Tuesday morning, we headed off reasonably bright and early to the Haus der Musik, which is tucked away in a really pretty alleyway called Seilerstätte. This was one of the coolest museums I have every visited, despite the fact that I am not really into classical music. You can get around the museum in about 2 hours, and there are so many interactive things to play with, you forget you are actually learning anything. The museum is more than just facts about famous composers and classical instruments. There are rooms devoted to talking about the biology of the ear and the way sound waves work. There are also lots of touch-screens with earphones and microphones which allow you to use your own voice to understand certain concepts about sound.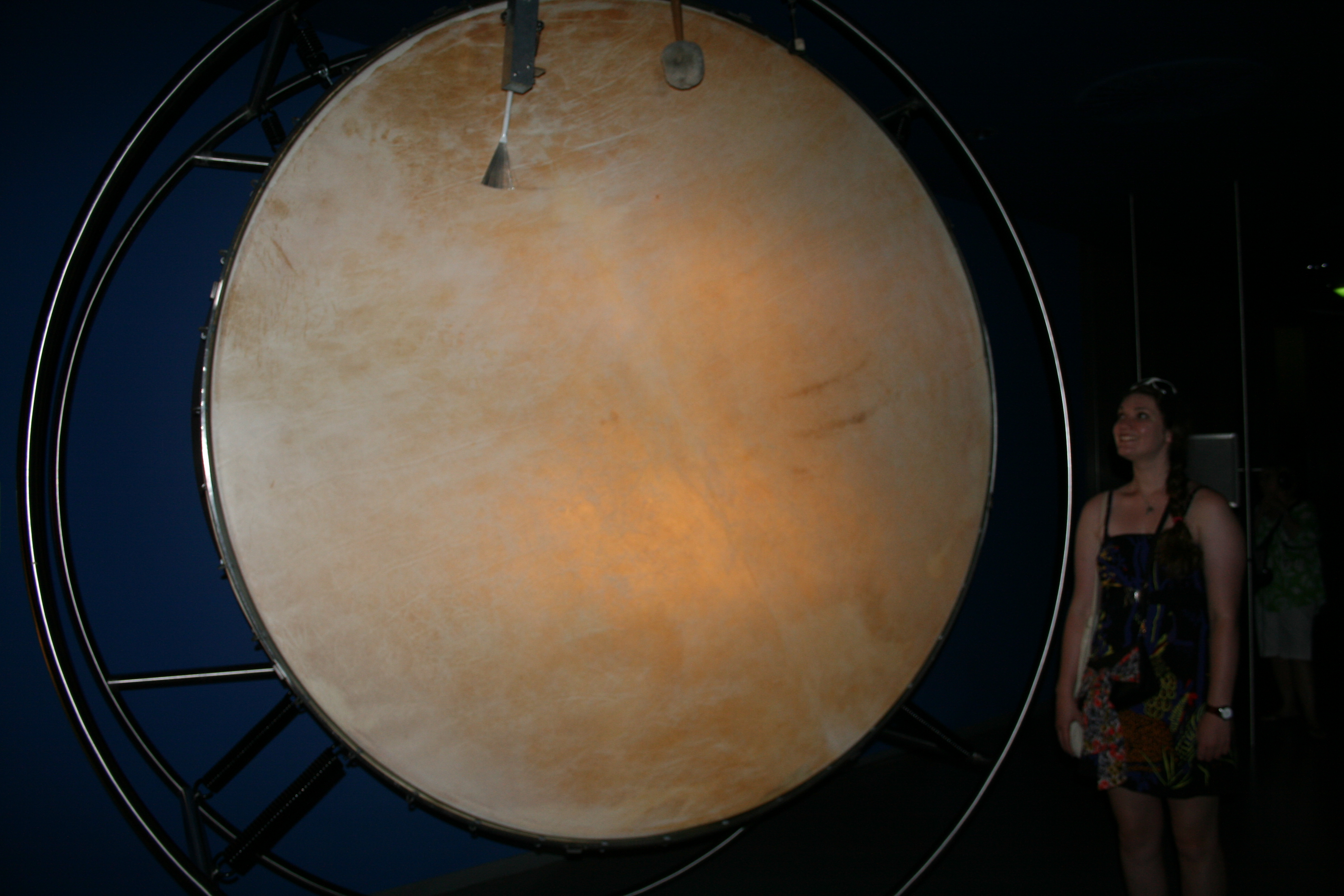 One of the rooms contained a massive working drum and another was a very trippy room which is meant to make you feel like you are back inside the womb. The final exhibition is several rooms devoted to the most famous classical composers, including Mozart and Beethoven. Although these could have been really boring and dry, they managed to avoid this scenario by telling you all sorts of juicy facts about the love lives (or lack of in Beethoven's case) and political views of these musical legends.
I would really recommend this museum if you get bored if all you can do is look at exhibitions and read about their history.
After our musical tour, we wandered back down Seilerstätte to find some lunch. As I mentioned before, we were hoping to find some traditional food, but in end I got overexcited when I saw someone chomping on ribs and potato wedges. We bagged ourselves an outside table at 'Wienerwald' and tucked into a home-made burger (Andrew) and ribs and chicken wings with potato wedges (myself). This was actually really quite delicious, although I was rather furious to discover we had been charged extortionate rates for the ketchup which had come with our meals. Another thing I have noticed about Europe is that restaurants often charge for use of condiments if they are in sachets.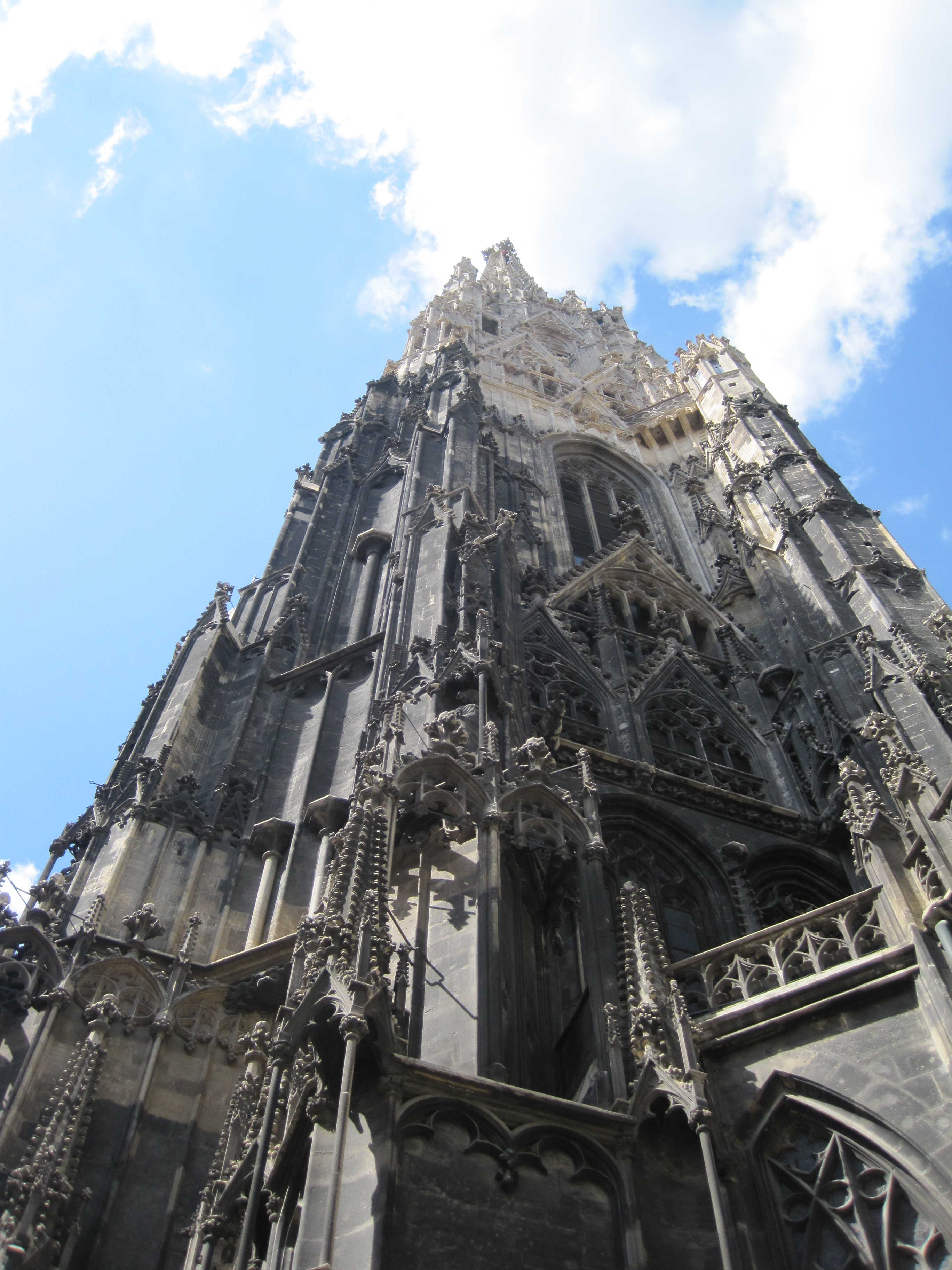 So it was now time for our final excursion in Vienna. Just moments after eating an enormous lunch, we would be climbing the 343 steps up the south spire of Stephansdom. Unsurprisingly, this was rather tiring, and I was pretty much on my hands and knees by the time we reached the top. This was made even more embarrassing by the fact that there there were several toddlers and pensioners who were effortlessly flying up the steps. It was, however, worth the climb, as the view was pretty spectacular. It was another beautiful day and you could see for miles. The architecture in Vienna is quite stunning, and there were some really interesting patterns in the roof-tiles of some of the closer buildings.
We made ourselves dizzy clambering down the stairs back to where we came from, and sadly it was now time to make our way back to the hotel so we could collect our backpacks for our journey to Prague. We had originally planned to stay here just one night, then make our way to Poland. As it turned out our plans changed  completely, and things in Prague were about to get messy!