Prague: too Good to Stay a Day
From Vienna to Prague was a rather long journey, but this time at least we were able to book our seats on the train so we knew we would be comfortable. After a while, a family joined us in our compartment and turned out to provide some excellent conversation. The father and mother were originally from China, but now live in New Jersey. They have two children, the youngest of whom accompanied them on their holiday. The father is currently working in Beijing as an investment banker, and we talked mostly about the pros and cons of the school systems in China, America and England. To be honest England came out on top, at least in my view, as there is less pressure in England to academically excel: students are encouraged to pursue other activities as well as learning. We also talked about gun crime, as recently America has been made to see how their lax laws on guns are leading to an increase in random shootings of innocent people. Our conversation made the time fly by and soon we arrived in Prague and at the point we were only planning to stay one night.
The 'Arpacay Backpackers Hostel' was located right at the top of a hill, which is never much fun when carrying massive backpacks. It was quite late already, and we were pretty knackered from our journey. We were thrilled to see that the hostel has a massive wide screen TV showing the Olympics, complete with comfy sofas and cold beers. We settled ourselves down to watch the men's weight-lifting. I have to confess this is not one of the most thrilling Olympic sports, but it was nice to feel a bit more involved with what is going on back home. There were quite a few other Brits watching the Olympics as well, and one of them recommended we go on the 'Prague Extravaganza' free tour as the tour guides are actually Czech rather than Australian or American. This seemed like an excellent plan, although we were not sure we would be able to make the 10am gathering as it was quite a trek to the meeting point at the Old Town Square.
As we suspected, the next morning we overslept and knew we would not be able to make the tour. However, by this point we were thinking that we would probably want to stay a couple more nights. From what we had seen of Prague so far, it is a really beautiful city. We had also heard rumours that Prague is an infamous location for wild partying, especially while on one of the organised bar crawls. After a little research, we also discovered that travelling to Poland was going to be a complete nightmare, as the trains were all exceedingly long. It would also take us ten hours to get from Poland to Bratislava, our next stop on the tour. In the end, we booked a couple more nights in Prague, at 'Hostel Mango', as our current hostel was already full. We also decided to book three nights in Bratislava instead of one at the 'Botal Marina', which seemed like a seriously cool place to stay.
After booking our various hostels, we headed down the hill towards the Old Town Sqaure, first having to cross the Charles Bridge. Prague during the daytime was a very different place to what we had seen the night before, as it was now absolutely teaming with tourists, more so than anywhere else on our trip so far. The bridge was no exception, and the locals of Prague had clearly caught onto this: there were loads of stalls, caricaturists, musicians and portrait sketchers all trying to attract attention. Some of the portraits actually looked really amazing, and for a while we were tempted…until we were given a price.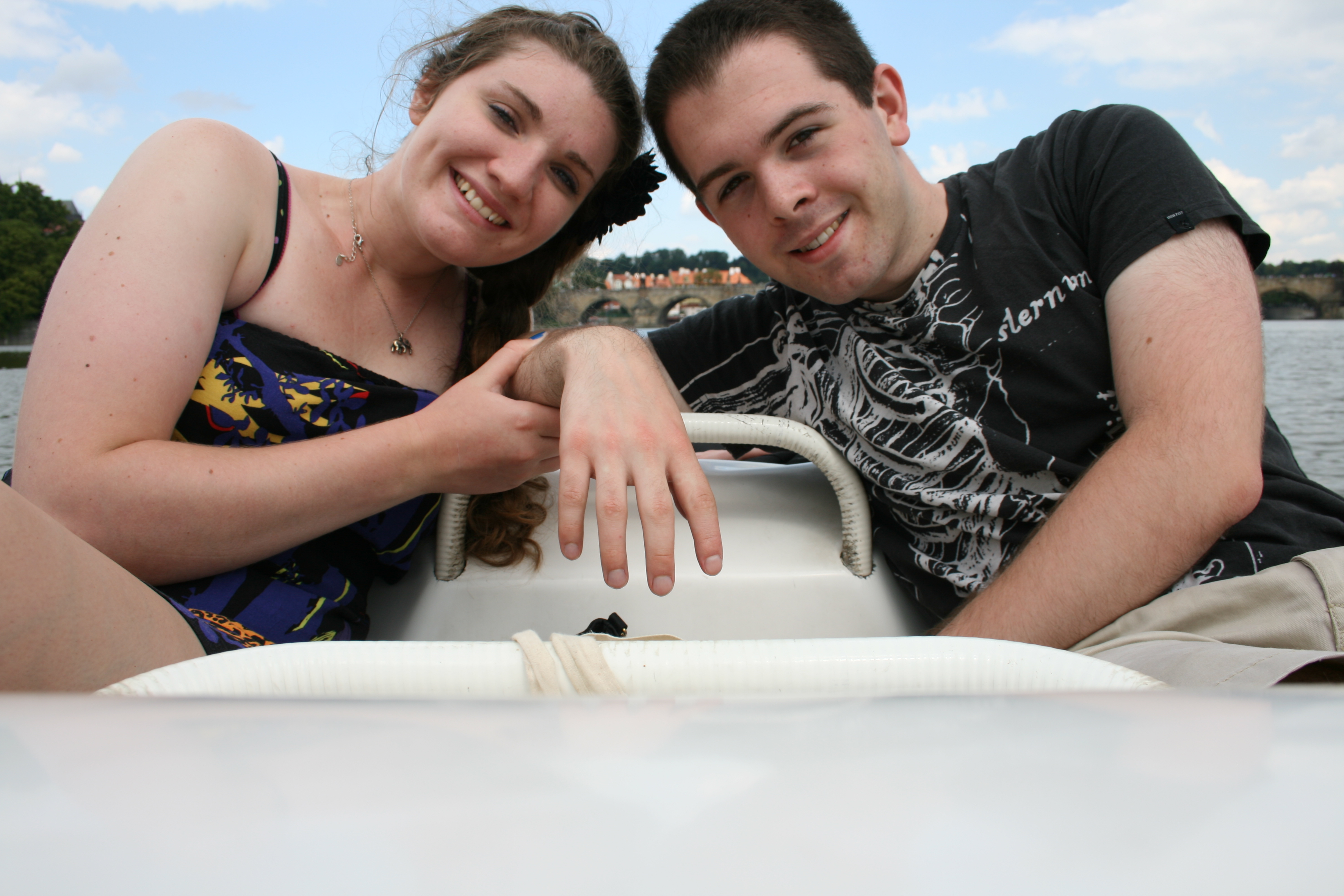 The friendly traveller we met the previous night recommended we rented a peddle boat on the Vltava River as it is both cheap and fun. We followed their advice and rented a boat in the shape of a swan (I can hear you all gagging) and also bought a glass of wine to accompany our sojourn. This was a very pleasant hour, as we watched the world go by and mistakenly frightened some ducks. After this we wandered around trying to find some traditional food for lunch. There were restaurants and shops full of tourist bumf everywhere we looked, even more so than Amsterdam (and that is saying something). We decided to wander further afield in the hope of finding somewhere a little more quiet and tourist-free. We finally settled at a pretty little café/restaurant and ordered the set menu of potato soup, goulash and ice-cream (the latter seeming less traditional). The food was delicious, if a little small in size, but this was not a bad thing as I am getting rounder by the hour.
While wandering about, a person dressed in "traditional" costumed handed me a leaflet about the museum of alchemists. Being a victim of advertising, I decided I really wanted to go, and dragged Andrew with me. We also planned to go to the Museum of ghosts and legends as there was a deal to go to both for €7.50.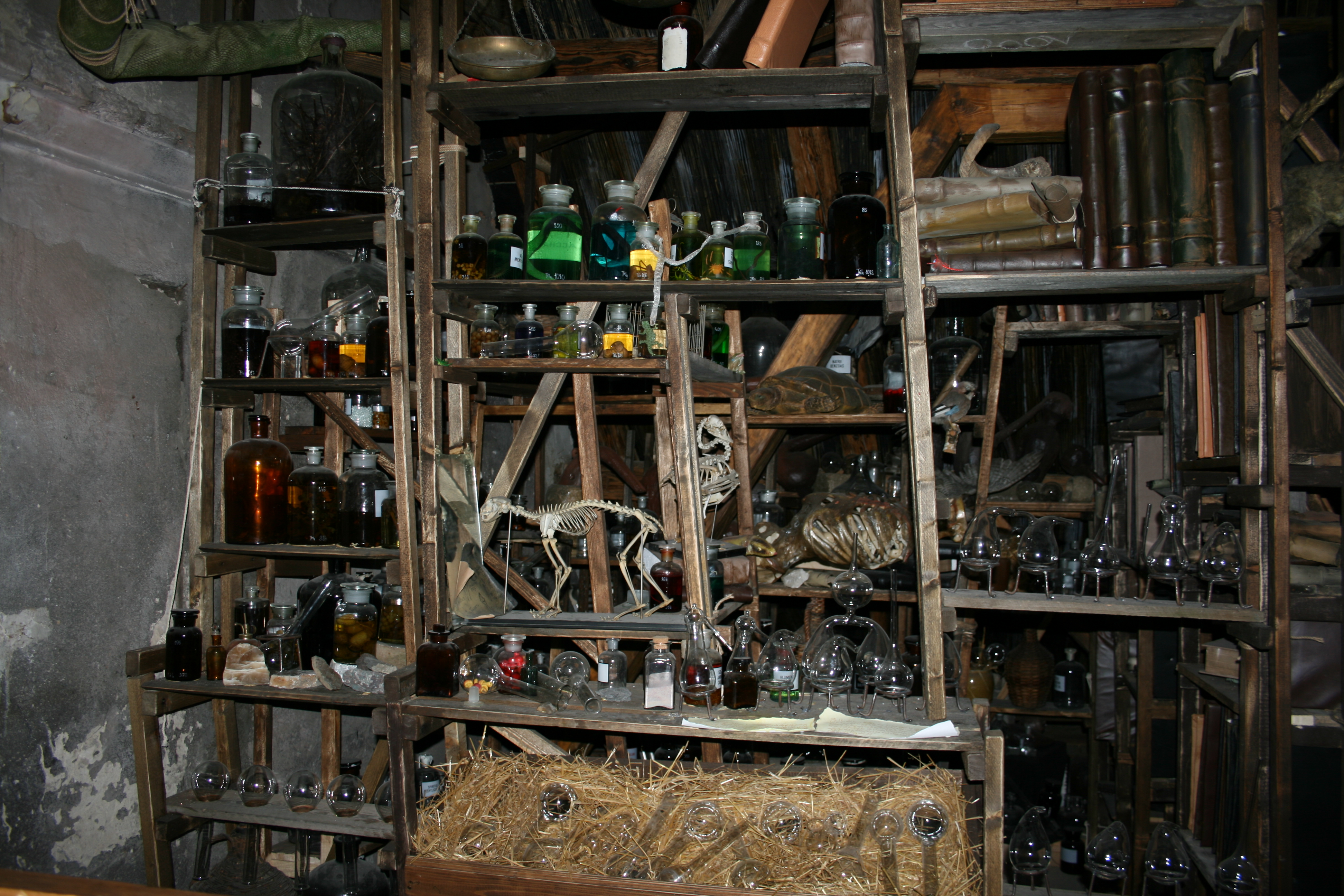 The alchemy museum was actually really cool, if a little random. You have to walk up a huge number of winding steps to get to the top of Kelly's tower to look around his secret laboratory. Although probably a load of codswollop, it was clear a lot of effort had been put into creating a really cool and interesting exhibition. There were lots of jars full of organs and various lizards, creepy experiments, and even a homunculus. The mood lighting added to the effect and I was actually really enjoying myself. Sadly I cannot say the same for the museum of ghosts and legends, which was less than impressive. It was mostly tales of people getting beheaded and women getting taught their place, complete with some rather tacky statues to accompany the stories.
By now it was time to collect our luggage from the hostel on the hill and transport it to Hostel Mango, which was in a much more agreeable location right next to the Charles Bridge. This hostel was a quite lively, and there was a communal area outside where people could bring in their own booze and food to munch on. We set off to the nearest supermarket and purchased a horrendous looking bottle of wine (a litre of €2.50) and returned to the hostel to enjoy our beverage and play some Uno. We decided that on our final night we would be more adventurous, and go on one of the infamous bar crawls.