Experiencing the Other Side of Prague
On Thursday morning, we rose from our beds bright and early because we wanted to go on the 'Prague Extravaganza' free tour that had been recommended to us by a fellow traveller. We were instructed to look for the people carrying the blue umbrella at the Old Town Square at ten o'clock. We arrived at the meeting point and began looking for the blue umbrella, but after about 20 minutes we still couldn't spot it and decided to join one of the other free tours. There was a friendly-looking guy with a huge green umbrella who told us his tour began at 10:45, so we went for a walk then returned to the square to join his gang. It was at this point the man with the blue umbrella finally appeared, but we had already chosen the green man so we followed him instead.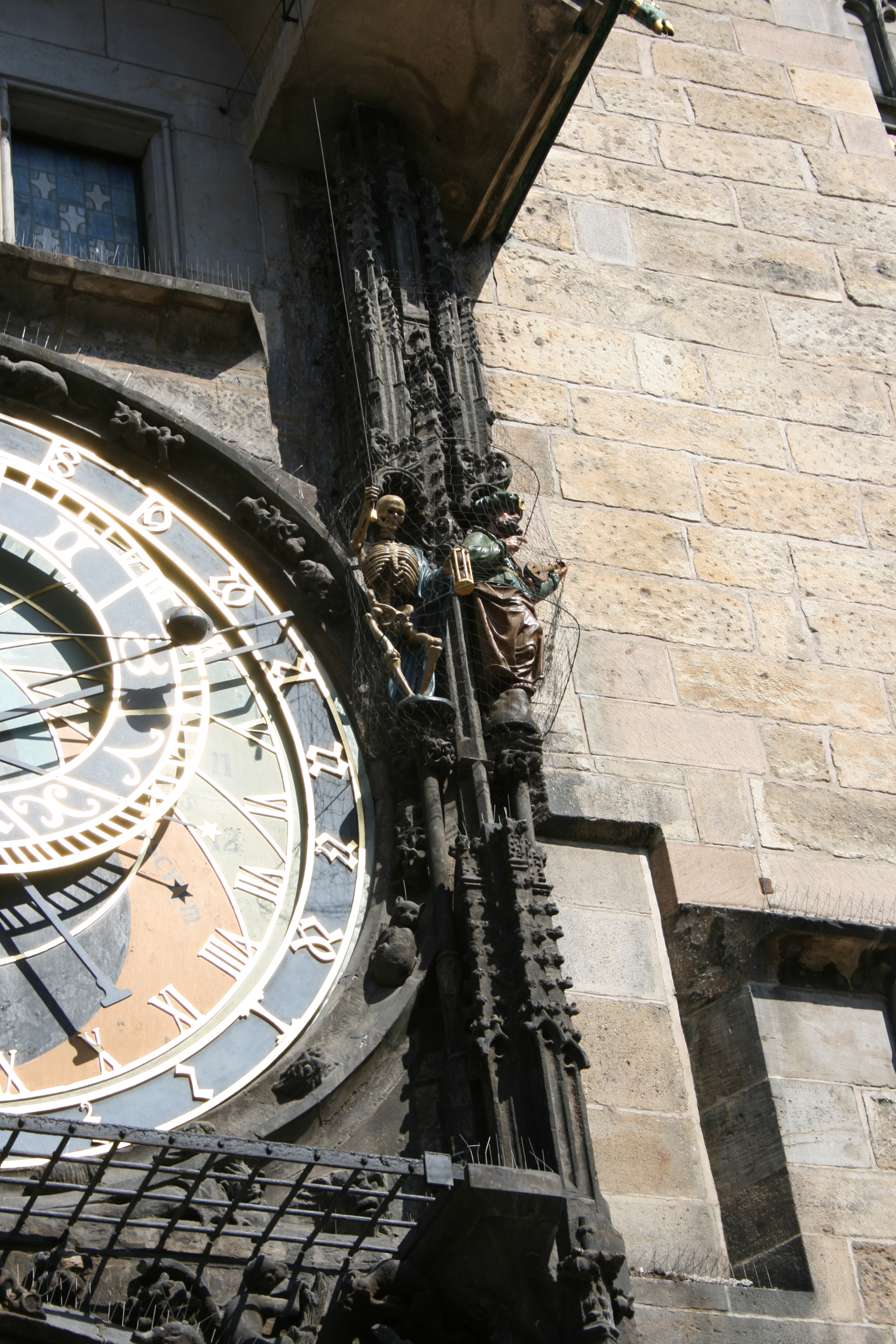 Our tour guide, Keith, had been living in Prague for a couple of years, having moved from America and fallen in love with a Czech lady. He was very charismatic and had soon attracted a bit of a crowd. At this point, we were feeling a little disillusioned with Prague due to the huge number of tourists, but he quickly restored our interest. Our first stop was the massive clock at the Old Town Square. Every hour, there is an elaborate display by the intricate statues standing around the clock, beginning with the skeleton pulling a rope. At the end of this, a (real) man plays a tune on his trumpet. Apparently this is a modern addition, as the tourists who come to watch the clock perform its magic used to awkwardly hover by the clock after the last strike, expecting something else to happen.
The tour lasted about two and half hours, and we walked around the old town, new town and Jewish quarter. Like many of the other cities we have seen so far, the Nazis left a lasting stain here. We discovered that Hitler adored Prague, believing it to be a superior city. He even left a couple of the synagogues intact in the old Jewish quarter to act as a kind of museum for people to visit after the Jewish race was wiped from existence. This is a very chilling thought, and is further emphasised if you visit the Jewish museum located in this part of the city. Visitors can take a look at drawings by some of the children during their time in one of the concentration camps. Hardly any of them survived, which highlights the depravity of Hitler and the Nazi movement.
Keith also recommended we partake in the Drunken Monkey bar crawl, as it includes two and a half hours free drinks and is always a lot of fun. We were thinking of going on one of the bar crawls that night, so we were glad our mind had been made up for us. We said farewell to Keith, who had to rush off to look after his kids, and went to find some lunch. In the end, we had some very delicious goulash soup in a bread roll for about four euros. At this point I realised how tired I was, so we headed back to the hostel for a few hours of rest and relaxation. We had been surviving off relatively little sleep for days, and it was only a matter of time before this caught up with me.
After a much needed nap, we decided we should have a big meal to line our stomachs before the bar crawl. We went to the desk of our hostel and asked the receptionist if she knew of any places that serve Asian cuisine. She told us to walk across the Charles Bridge as we shouldn't have much trouble finding some Chinese food. After 40 minutes of walking aimlessly around and getting more and more annoyed, we decided the receptionist didn't know what she was talking about so we turned around and headed back to where we came from.
It was then that we spotted a sign to a Thai restaurant, literally a stone's throw away from the hostel. We wandered into the Bangkok restaurant and immediately became a bit wary the price would be way over our budget as it was really plush inside. We were actually pleasantly surprised, and had a really delicious set meal which included a fiery red curry. The waitress was unusually friendly and the food was some of the best we have eaten in Europe. We left the restaurant feeling satisfied and ready for the night ahead.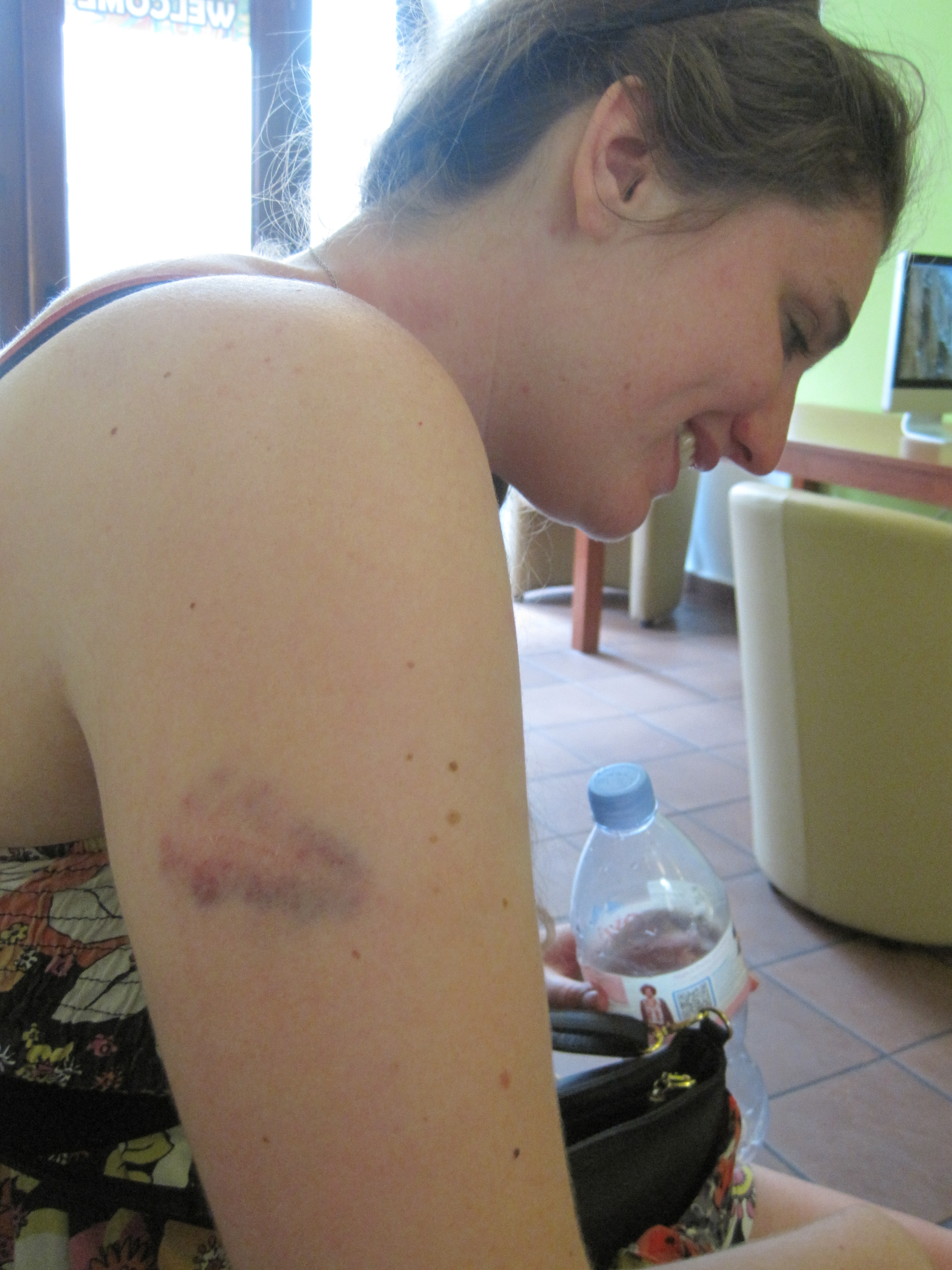 Needless to say, the bar crawl was completely ridiculous. Within about 20 minutes everyone was pissed, helped by playing drinking games like beer pong and flip cup. By the second bar, there were few people who could walk in a straight line. The two and a half hours drinking had taken its toll, and as usual all the Brits had taken the all-you-can-drink as a challenge. I woke up the next morning with some fantastic bruises, the biggest of which was plastered right across my right arm. Apparently the cobbled floor of the Charles Bridge was to blame.
We were feeling less than wonderful on Friday morning, and decided the only thing that could raise our spirits was a full English breakfast. We had spotted an English bar on the other side of the Charles Bridge the previous day, and ended up paying an extortionate amount for our sausages, bacon and eggs. On this occasion, it was totally worth it, as I felt the worst of my hangover lift after consuming my huge plate of salty, fatty goodness. We were meant to be leaving Prague for Bratislava late in the afternoon, but because we were feeling quite grim we decided to get an earlier train and get it over with. To our horror, the train was absolutely packed, and we spent several hours on the floor of the bicycle room trying to catch up on a bit of sleep. By the time we reached Bratislava, my mood was pretty dreadful, but I was really looking forward to staying on a boat on the Danube river. We just had to find it first!