Bratislava: Home of the Communist UFO
After a rather unpleasant journey on the train, we arrived at Bratislava with a vague idea of how to get to our Botel, which was located somewhere along the Danube. The train station was full of people trying to convince us to stay at their hostel instead, but there was no way we were going to forgo our lodgings on a boat. We realised pretty quickly that unlike many of the places we have visited so far, the locals of Bratislava are not so hot on the English language. Secretly, I was quite pleased as it forced us to think on our toes, but it did mean that getting to Botel Marina was going to be a bit more of a challenge.
We asked a couple of bus drivers for directions but none of whom knew what we we were talking about. However, one of them told us to head in the general direction of Nový Most (New Bridge), which crosses the Danube and contains the most famous modern landmark in Bratislava: a UFO-shaped tower restaurant. Apparently, the locals say that this restaurant holds the best view in Bratislava because from there you cannot see Nový Most . There are also two green aliens which sit on top of the UFO, making this a unique yet bizarre landmark.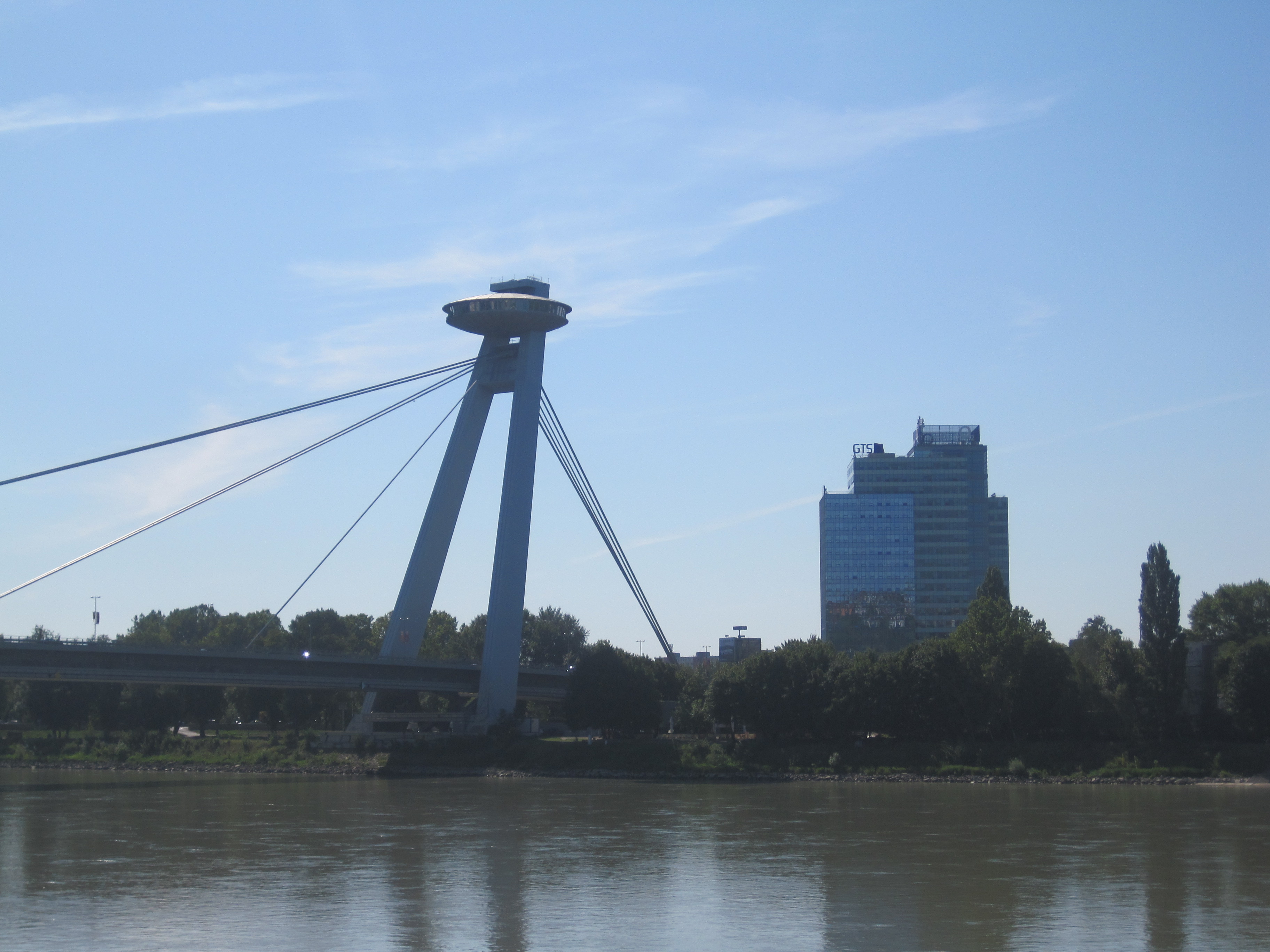 After we caught our bus and found the bridge, we wondered up and down the Danube trying to find our Botel and lugging around out increasingly heavy backpacks. Finally, after about twenty minutes of searching, the Botel Marina came into view and with a joyful cheer we made our way to the welcome desk. Having spent weeks staying in hostels, we were very excited to find that this was much more like a hotel, with an en-suite bathroom and people who came to clean the rooms each day. We also had a free breakfast, complete with sausages and scrambled egg which filled me with joy.
We had a nice nap in our new room, then headed to the 'Krishna' Indian restaurant, which was also located on the boat. This was a real gem of a restaurant, offering some of the best Indian food I have ever tasted. Highlights included an incredible fish curry and garlic nan bread, as well as a really goof chicken tikka masala. The food was shockingly cheap, and we decided that we would have to return on the last night for another meal.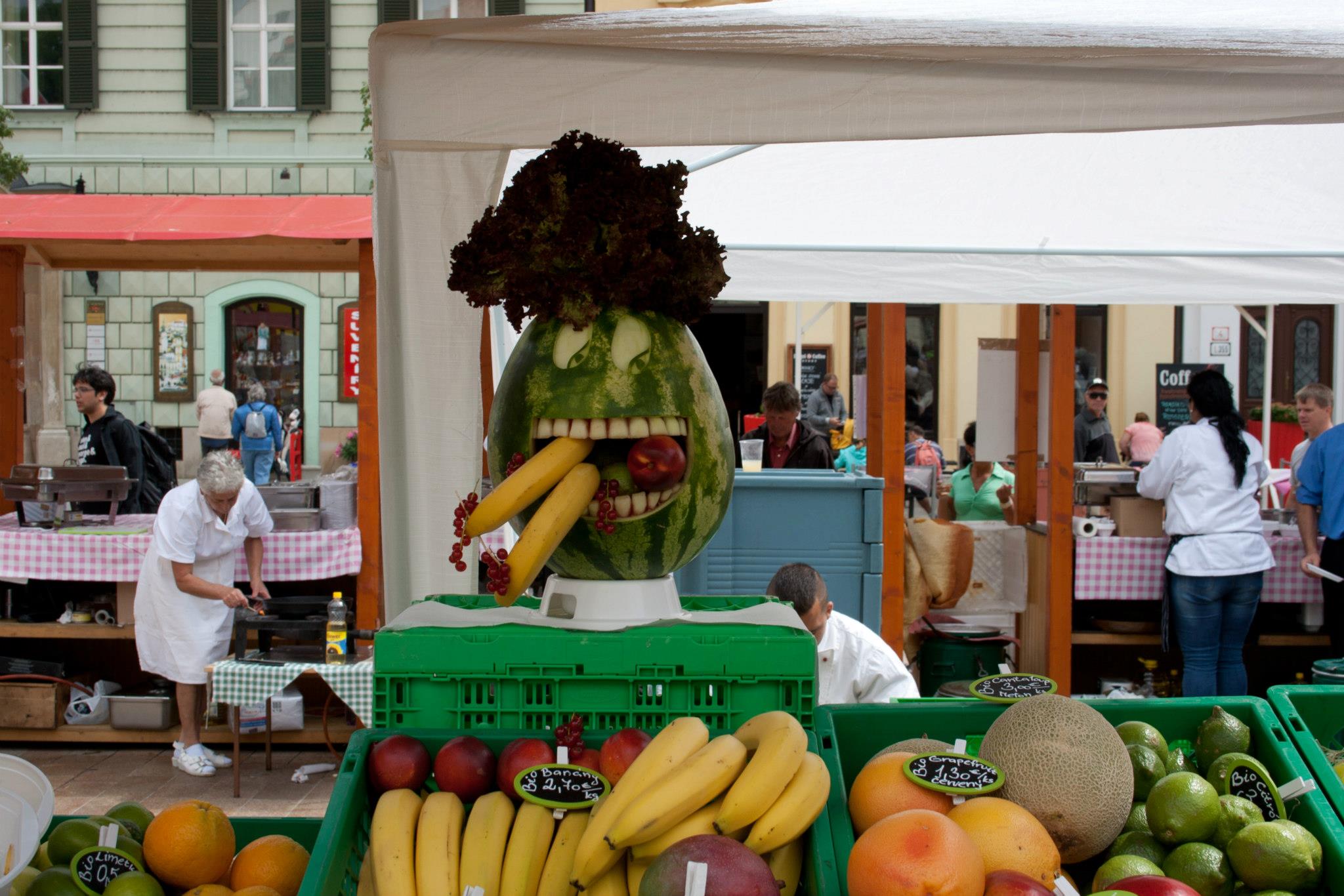 The following day, we headed into the area of the historic town centre, which was just down the road from the Botel Marina. It was actually rather pretty, with playful statues dotted around the streets, surrounded by gaggles of tourists wanting to take pictures. There was also a food market, sporting a stall with some rather amusing decorated fruit. Unlike Prague, Bratislava was reasonably quiet, with hardly any British or American tourists. It was a nice break from the hustle and bustle of many of the other cities on our trip, and I really enjoyed just wondering around and enjoying the view. We ate our lunch and slowly ambled back to our Botel, with the intention of catching up on some much needed sleep. We had decided that Bratislava was going to be a bit of a rest stop, after such a hectic few days in Prague.
In the evening, we decided to have some Chinese food, having gorged on Indian cuisine the previous night. I enjoyed my meal of 'Duck with Eight Treasures' at the 'Jasmin' restaurant, despite not really being able to identify any of said treasures. The only thing I avoided was some rather dodgy looking pink cubes, which looked suspiciously like offal.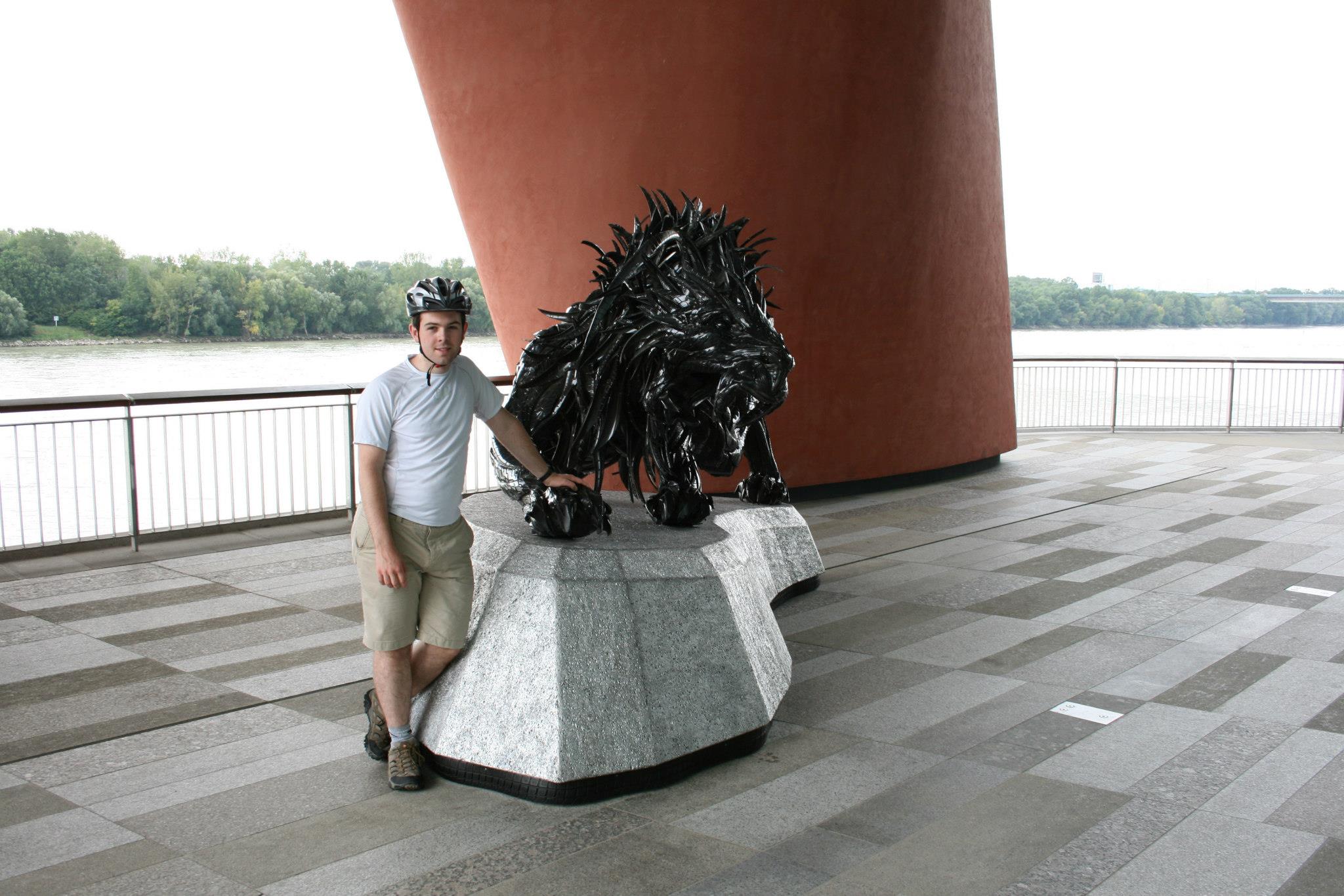 Have been such greedy guts the past few days, it was time to do some exercise, so we planned a bike trip down the Danube the next morning. It took us a while to find 'Bike Bratislava'. which was concealed behind some rather imposing iron gates along a quiet street near the train station. However, it was worth the search, as we were able to rent some very fancy road bikes for the total of nine euros each for five hours. I was very excited that my bike had about twenty five gears, as my ancient 'bike' at home has only five, although it might as well have none. We cycled to the Danube and decided to turn right towards Budapest. We passed some pretty amazing sites, including several huge, concrete bridges and a lion made out of car tyres. Andrew insisted we cycle several miles along a main road, convinced we would find somewhere exciting. However, after passing yet another load of suburban houses, we decided to turn back and find somewhere to eat. We ended up having our lunch at an arty cafe which doubled as a dance school, complete with art-deco chairs and an exhibition of ballet shoes.
After lunch, we headed off in the opposite direction towards the Czech Republic. This was less successful, as the cycle path was very narrow and there were a lot of people with push-chairs and small children. We cycled pass an artificial beach and a busy shopping centre, and at this point decided to call it a day. After dropping off our bikes back, we made the most of the 'Krishna' restaurant and ordered the Royal Tandoori Banquet, which was epic. If you are ever in this neck of the woods, I would definitely go for the banquet!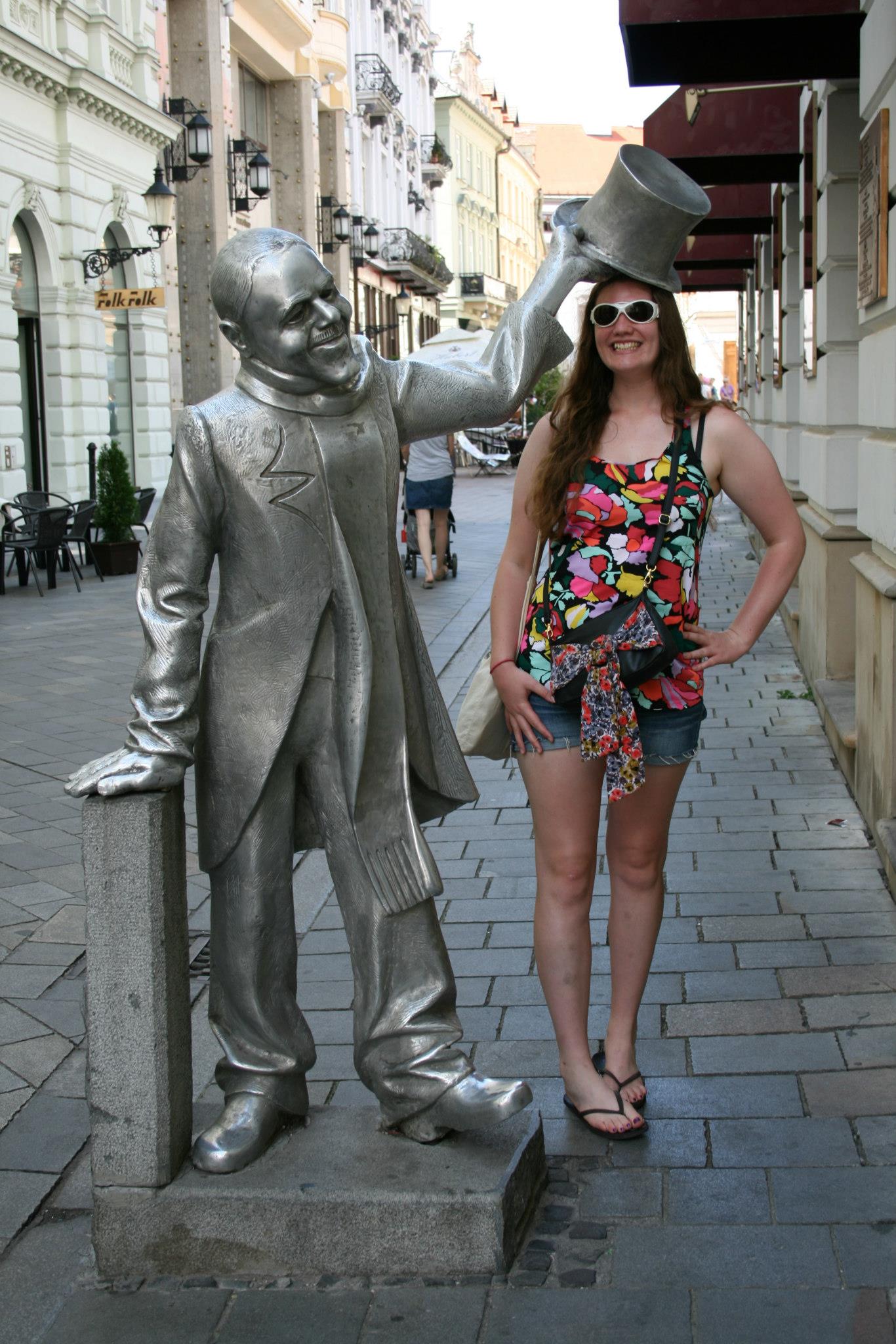 On our last morning, we continued our relaxing theme and spent the morning at the 'Freja' Spa, which included a swimming pool, jacuzzi and sauna. We chose to go at Happy Hour to save a bit of money, and fortunately for us we discovered that the Slovaks are as reserved as the Brits, and chose not to go naked in the sauna. For the last couple of hours in Bratislava, we wondered about the old historic town and took lots of photos of us with the statues: typical tourist fun! We then returned to the Botel, grabbed our bags then got a taxi to the station. Our next port of call was to be Budapest, and I was really looking forward to our next adventure.