Part One of Budapest: Origin of Not Many Famous People
After arriving at yet another grotty train station (named somewhat amusingly Keleti-Pu), we spent a good half an hour trying to work out which type of public transport we should be getting to our hostel. We queued up for ages at the train station ticket office in order to purchase some bus passes, only to be told we should buy these at the nearby sweet shop. Eventually, we arrived at Astoria and headed to our hostel, 'Njoy Budapest'. We immediately knew that this was going to be an extremely friendly hostel, as they guy behind the desk, Oliver, shook our hands and gave us a tour of the place. He also told us he would be cooking us some traditional Hungarian food later in the week. Oliver recommended we went on the free tour on our first day, as it is a really good way to get to know the city. At this point, we were still planning to go to Croatia, so we only had a couple of days in Budapest.
The following morning, we made our way to the centre of the city, to find find the starting point of the tour. As per usual, we managed to get rather lost; map reading being a skill neither of us have really embraced. Due to this slight mishap, we arrived late and decided we would be better off tagging on to the afternoon tour instead. For the rest of the morning, we wondered about the shopping district and stopped off for a drink at the 'Anna Cafe'. This turned out to be a colossal mistake as it was a complete rip-off. For just a couple of weak lemonades, we were charged about ten euros, including a ridiculous 15% service charge.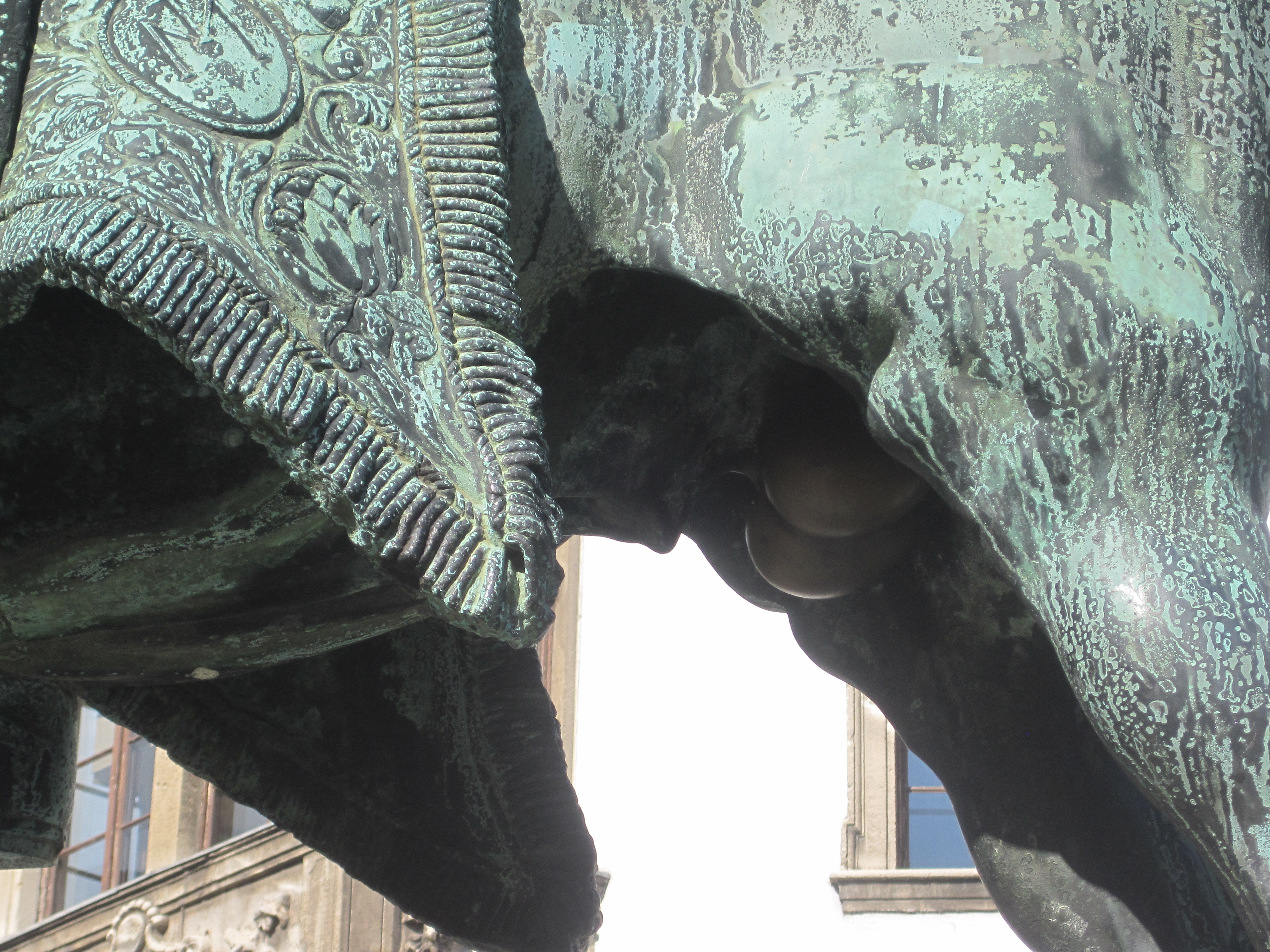 At around 2pm, we joined a huge group of people for the afternoon free tour. Fortunately, everyone was split into smaller groups. We were introduced to our tour guide, Zoltan, who told us his name translates to 'Sultan'. He informed us that Budapest is named after the two sides of the city, 'Buda' and 'Pest', which are separated by the Danube river. The 'Pest' (pronounced 'Pesht') side is where the main part of the city is located, including our hostel. The 'Buda' side is what Zoltan described as the posh side. This is the location of Buda Castle, and also contains a residential area which was more akin to Brugge than anywhere else we had visited. The 'Buda' side is also the site of a statue of a horse who has a rather amusing story attached to it: every year during exams, the University students used to climb the horse and rub its balls for good luck. This particular rite has now been banned as the horse's balls are now gold while the rest of it is green due to over-rubbing.
Zoltan also asked us to name five famous Hungarians…even after ten minutes there was an awkward silence as nobody had a clue. Andrew offered Paul Erdős, who is famous for some kind of geekery, but even Zoltan had never heard of him. The only person who I recognised out of the list of names he gave us was Ernst Rubik, creator of the world-famous Rubik's Cube. However, most of the famous people from Hungary actually left the country before they actually became famous. Nowadays, one in two you Hungarians leave the country after school or University because the average salary is so low (less than €10,000 a year). The government are actually trying desperately to keep young adults in the country by offering them free University tuition as long as they agree to work in the country for at least five years after they graduate.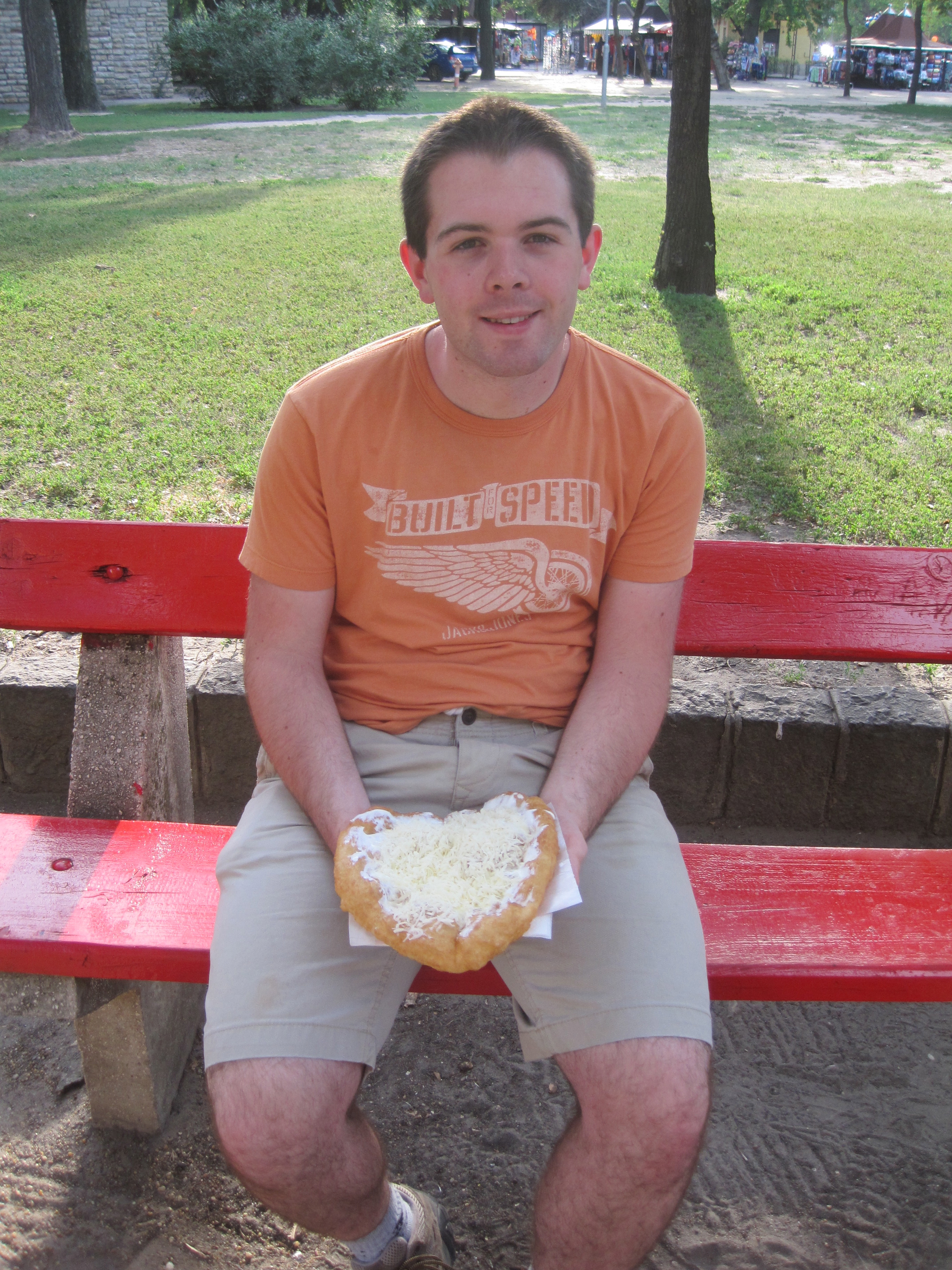 After our tour, we headed back to our hostel for an evening of relaxation. We actually attempted to watch Avatar on the flatscreen TV in the communal area, but only last about an hour before we fell asleep. We decided  spend they afternoon at the Szechenyi Bathhouse the following day, where the water is naturally heated from the 2nd St. Stephan's Well. The thermal baths are one of the main tourist attractions of Budapest, and we were eager to see what it was all about. As it turned out, we had a lovely afternoon enjoying the gentle sunshine and playing chess pretentiously on the side of one of the baths. One of the pools was 38 °C, which is even hotter than the temperature of my usual bath. After several hours of stewing and getting rather sunburnt, we decided to try out one of the Hungarian delicacies, 'Langos' which is basically deep-fried salty bread covered in garlic, sour cream and cheese. It tasted OK, but I could feel my arteries clogging up with fat as I ate.
Tonight was also the night Oliver was going to cook for us, although we had no idea what was on the menu. We arrived back at the hostel at about 19:30, and  we were told dinner was underway so we wandered into the kitchen and plonked ourselves on the table with the rest of the guests. Unfortunately, Oliver had decided to cook Langos, which I admit filled me with horror. Nevertheless, I tucked, secretly deciding that never again would I eat the stuff. The night was certainly not a waste, as we met a load of really friendly people, and started to make plans with them for the next couple of days. By this time, we had realised that it would be impossible for us to get to Croatia due to time constraints, so we thought we may as well make the most of Budapest. We were also planning to go on one of the bar crawls in the evening, but it turned out not enough people had signed up that night. Instead, everyone decided to go the following night, which suited us perfectly.