Budapest Part 2: Pálinka and Caving
Our days in Budapest were sadly running out, but we had decided to be a little daring and sign up to a spot of caving. I had never tried caving before, and the brochure warned us that anyone with Claustrophobia should stay well clear of the caves. Having had little experience in small spaces, I was not exactly sure what my feelings would be if I was wedged in between a bunch of rocks, but decided there was only one way to find out.
It turns out that the hot springs which provided us with the delicious heated water at the Szechenyi Bathhouse also created a huge cave system under the city, thought to be over 100km in length. Part of this cave system is available for us tourists to have a little explore -if three hours crawling through a cave system counts as 'little'.
We still had a couple of days before our caving adventure, and were waiting in joyous anticipation for the bar crawl in the evening. It began with a rather non-descript bar, made acceptable by the constant steam of free wine and beer. Next was a trip to the infamous Szimpla bar, one of the 'ruin bars' located in Budapest. The ruin bars are mostly found in the Jewish Quarter of Budapest, and have been converted from old soviet buildings into stylish shabby-chic bars. They contain all manner of oddities, including crumbling soviet furniture and even the occasional bit of car.
Szimpla is one of the most famous ruin bars, and it was certainly very impressive to look at. Rather oddly, there was a waitress here selling raw carrots – apparently these are meant to soak up all the alcohol, but I felt that carrots were a rather odd choice. Also in this bar we had the pleasure of trying Pálinka, the Hungarian spirit of choice. Pálinka comes in every flavour under the sun, but  the burning sensation caused by the ridiculously high alcohol percentage meant I couldn't even tell which fruit it was.
Our final call on the bar crawl was a roof-top club, located at the top of an old Department store. We had to climb about eight flights of stairs to get  to the top, but it was worth the walk. There was some brilliant music and the view from the roof was pretty awesome. Our crew of hostel-goers danced the night away until about 4am, when Andrew and I decided to call it a night.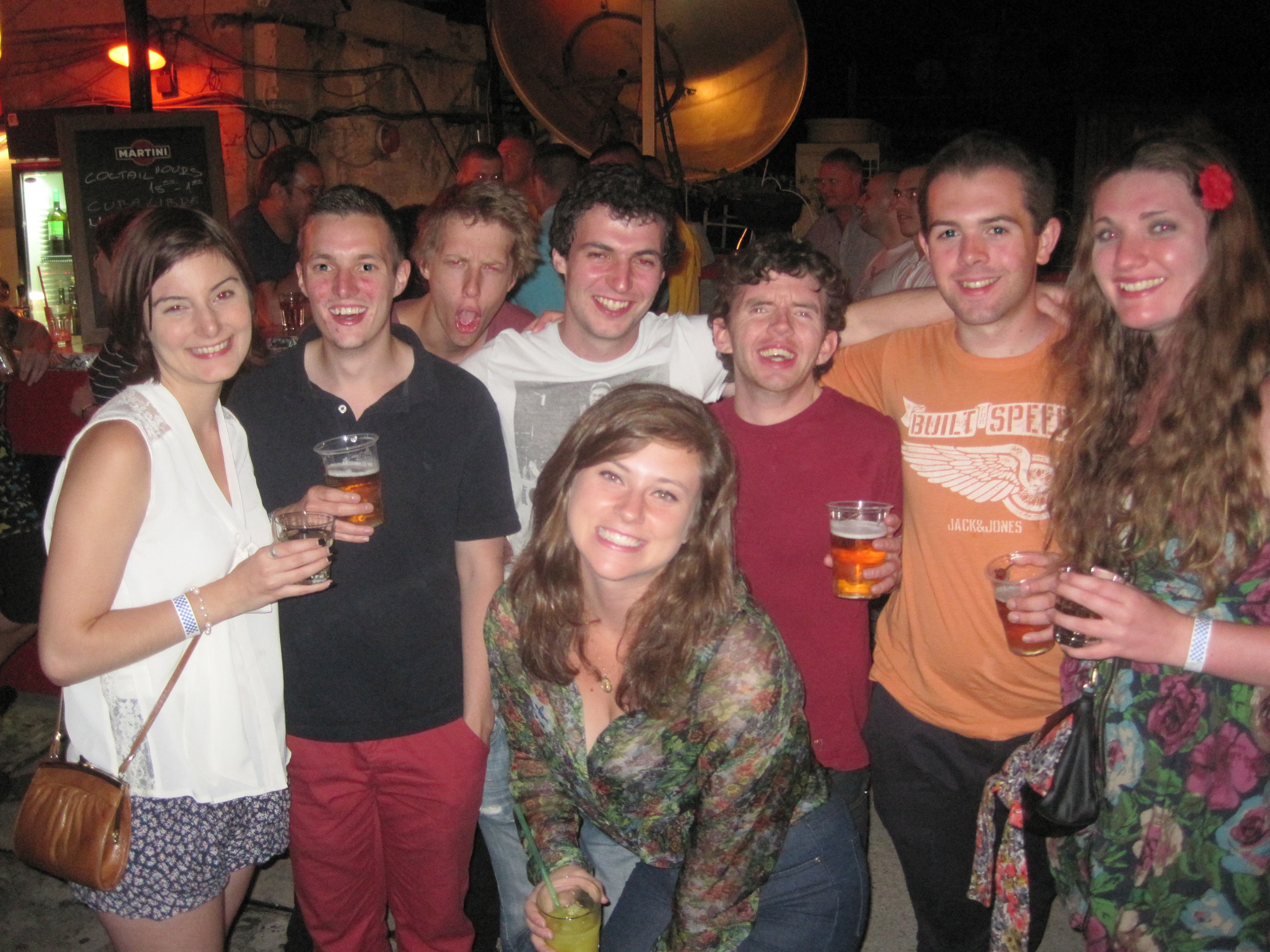 The next day we were a little delicate so we did not manage to leave the hostel until lunchtime. We decided we needed to be a bit more cultural so headed to the 'Terror Museum', which displayed the brutal Communist and Nazi regimes in all their horrendous glory. The exhibitions were fascinating, but also intense with a lot of reading. There was one particularly nasty video of a hanging, which was displayed in the lift leading us down to basement where the tortures were carried out. The torture rooms were really harrowing, with each cell designed differently to maximise the horror: one room was so small and narrow that the prisoner was forced to stand up permanently.
We spent a quiet evening in another hostel as there was no space in our beloved 'Njoy Budapest'. Fortunately for us, this hostel was also cooking a free meal, so we had some very delicious non-Langos related Hungarian food. We organised to go to the Palatinus water park on Margaret island the next day, as we did not leave for caving until late afternoon.
The water park was a laugh although the slides were rather feeble. Fortunately, the weather was lovely so we spent most of the morning basking in the various pools. Time went rather too fast and we had to rush off to get ready for caving. After taking several forms of public transport, we eventually arrived at the Duna-Ipoly National Park where our caving was to take place. We were given some delightful overalls and a hard-hat with a light. The next two and a half hours were spent crawling around the Pál-völgyi cave system, which was absolutely amazing. I never thought I would be able to squeeze through such tiny spaces. We also had to slither, scramble, and slide for much of our tour, which was a very interesting experience. Fortunately, nobody got well and truly stuck, although I did have one interesting moment where my derriere seemed to be completely wedged. With some help from my fellow cavers it didn't take too long to get me unstuck!
We arrived back at 'Hostel Goodmo' and spent the evening with our friends from 'Njoy Budapest'. The next day we spent a few minutes at a market before Andrew decided he hated shopping. We then decided to wander to the station to catch a train to Salzburg, where we would be spending one night at the overpriced 'Hostel Muffin'.